Emerald Ash Borer in Vermont
Emerald ash borer has been confirmed in Orange, Washington, and Caledonia Counties. This is the first emerald ash borer (EAB) infestation discovered in Vermont. Here is a map of the EAB infested area in Vermont.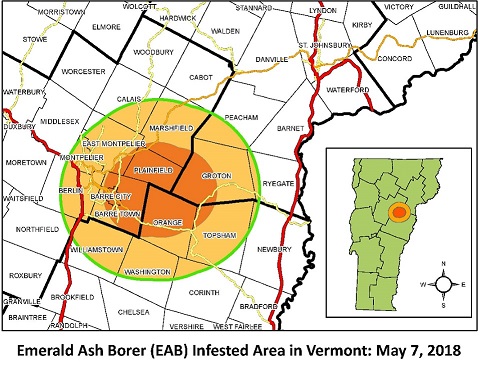 Emerald ash borer was first discovered in the Detroit, Michigan area in 2002, though it is believed to have arrived in the 1990's. EAB is now known to be established in over 30 states and three Canadian provinces. The beetle is about one half an inch and metallic green. Its larvae tunnel through the wood just under the bark of ash trees; killing the tree by cutting off the flow of nutrients. Healthy ash trees can die within 1-4 years of showing their first sign or symptom. All species of ash trees are susceptible.
5% of Vermont's trees are ash. The majority of ash trees infested with emerald ash borer will die. The emerald ash borer poses a threat to Vermont's economy and ecology. It spreads very quickly, is difficult to detect, and eradication is not expected. 
The emerald ash borer will impact Vermont municipalities. Dead trees may become a public hazard and a liability to the town. Planning ahead can mitigate the impact and financial burden of responding to infestations. The state has assistance available for preparedness planning. 
As part of the ongoing response to the recent discovery of the Emerald Ash Borer (EAB) within the state, Vermont has joined the United States Department of Agriculture (USDA)'s 31-state quarantine boundary. The quarantine will help reduce the movement of infested ash wood to un-infested regions outside of Vermont's borders. Here is a map of EAB quarantine in New England and Recommendations to Slow the Spread. 
Slow the Spread Recommendations