Spread the word!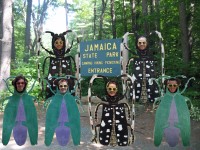 Having a good outreach strategy can make a huge difference in the prevention of invasive species. It was the incredible public outreach and community involvement that made it possible for Chicago to eradicate their infestation of Asian longhorned beetle.
On this page you will find an assortment of education and outreach material specific for forest pests, invasive plants, and aquatics. If you do not find what you are looking for on this page, be sure to also check out the Resource Hub.
---
Forest Pest Outreach Opportunities
Organize a Tree Tagging Event
Complete an Ash Tree Inventory
Give a Talk or Host a Movie Screening
Campground Survey
Write an Article
---
Aquatic Invasive Species Opportunities
Check out the Resource Hub for presentations, videos, posters, handouts, and more. For more information, contact the Vermont Department of Environmental Conservation's Aquatic Invasive Species Biologist, Josh Mulhollem at Josh.mulhollem@vermont.gov.
---
Terrestrial Plant Outreach Opportunities
Check out the case studies below that include problems encountered and solutions discovered by other Vermonters managing invasive plants. The Resource Hub also has great information including handouts, Best Mangement Practices, and more. The Project How-To Guide provides resources for groups just starting out, or interested in learning more about outreach. Contact the Vermont Department of Forests, Parks & Recreation's Invasive Plant Coordinator, Elizabeth Spinney at elizabeth.spinney@vermont.gov. 
Project how-to guide
Planning your project 
Recruiting and working with volunteers
Organizing and executing a workday
Getting the word out
Working with governments and schools
Management Case Studies