EAB IDENTIFICATION
Adult emerald ash borers are 1/4 to 1/2 inches long, narrow and bullet shaped with a flat back.
Adults are metallic in color with purple/red metallic abdominal segments beneath their wing covers.
Larvae can get up to 3 cm in length and are a creamy white color with no legs.
Larvae body is made up of flattened, bell-shaped segments. 
Attacks all species of ash trees.
SIGNS AND SYMPTOMS of EAB
Adult beetles emerge in late May/early June
Bark splitting 
S-shaped tunnels behind outer bark
D-shaped exit holes 1/8" wide on bark surface
Woodpecker flecking
Dead top branches of ash trees
Leafy offshoots from the lower trunk of ash trees
NATIVE LOOK-ALIKES
Emerald ash borer can be confused with many native insects.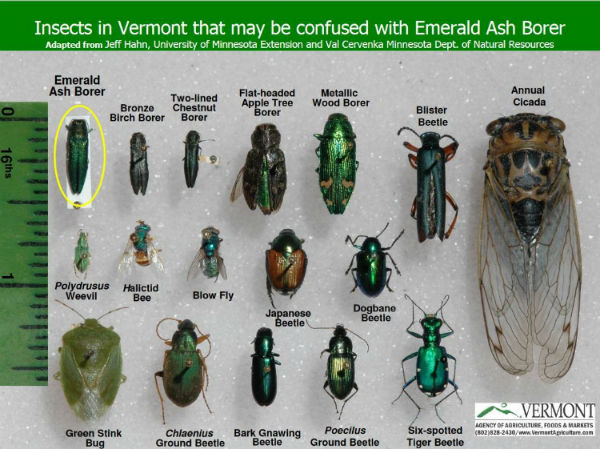 Short Video on EAB Basics
First Detection of EAB in Vermont
Think you have EAB?
Photo Credits
Kenneth R. Law, USDA APHIS PPQ, Bugwood.org
Kelly Oten, North Carolina Forest Service, Bugwood.org
Daniel Herms, The Ohio State University, Bugwood.org
Nathan Siegert, US Forest Service