Due to the threat of aquatic invasive species and the devastating impact that they can have on the local environment and economy, Vermont has enacted several laws designed to curb their spread. These include:
Transport of aquatic plants and aquatic nuisance species (10 V.S.A. §1454)
Check out this sheet for a synopsis of the current Transport law.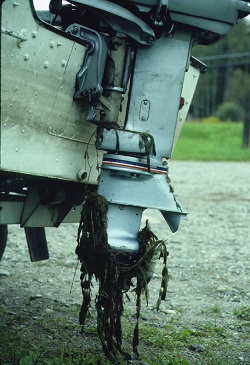 (a) No person shall transport an aquatic plant or aquatic plant part, zebra mussels (Dreissena polymorpha), quagga mussels (Dreissena bugensis), or other aquatic nuisance species identified by the secretary by rule to or from any Vermont waters on the outside of a vehicle, boat, personal watercraft, trailer, or other equipment. This section shall not restrict proper harvesting or other control activities undertaken for the purpose of eliminating or controlling the growth or propagation of aquatic plants, zebra mussels, quagga mussels, or other aquatic nuisance species.
(b) The secretary may grant exceptions to persons to allow the transport of aquatic plants, zebra mussels, quagga mussels, or other aquatic nuisance species for scientific or educational purposes. When granting exceptions, the secretary shall take into consideration both the value of the scientific or educational purpose and the risk to Vermont surface waters posed by the transport and ultimate use of the specimens. A letter from the secretary authorizing the transport must accompany the specimens during transport.
A person who violates a requirement under 10 V.S.A. § 1454 shall be subject to enforcement under 10 V.S.A. chapter 201, provided that the person shall be assessed a penalty of not more than $1,000.00 for each violation. 
Noxious weed quarantine
In general, this rule prohibits the sale, movement, distribution, and in some cases, possession or cultivation of certain species of plants that have been recognized as invasive in Vermont or adjacent States. The impacts of these plant species on native ecosystems outweigh their value as ornamental plants in the nursery and landscaping trades to the extent that the Agency of Agriculture has banned their sale in an effort to prevent their introduction into as yet uninfested areas, or slow their further spread across the state through commerce. Several aquatic plants are on this quarantine list.
Minnow nets, traps, transporting, and use (10 V.S.A. Chapter 2, §122)
According to Vermont baitfish laws, anglers may harvest wild baitfish for personal use, provided they use them only on the same water where harvested and only species approved for use as baitfish. Anglers may NOT transport baitfish they harvest away from that waterbody, but may store them on that waterbody indefinitely.
When purchasing baitfish, anglers must purchase baitfish from a state-approved commercial bait dealer. At the time of purchase, a Baitfish Transportation Receipt will be issued, which is valid for 96 hours from time and date of sale. This means that when baitfish are purchased from a baitshop, anglers have 96 hours to transport and use said baitfish on the designated waterbody indicated on the receipt. These baitfish may NOT be transported to any waterbody other than the one indicated on your receipt.
Placing fish in waters (10 V.S.A. Chapter 111, §4605)
The Vermont Department of Fish and Wildlife, through the Commissioner, has the authority to regulate the introduction of all live fish or the live spawn thereof, into any of the inland or outlying waters of the state. The Department also may dispose of unlawfully imported fish as it may judge best, and the state may collect damages from the violator for all expenses incurred. In this regard, no person is to bring into the state to introduce into any of the public waters any live fish or eggs unless a permit is first obtained from the Department of Fish and Wildlife.