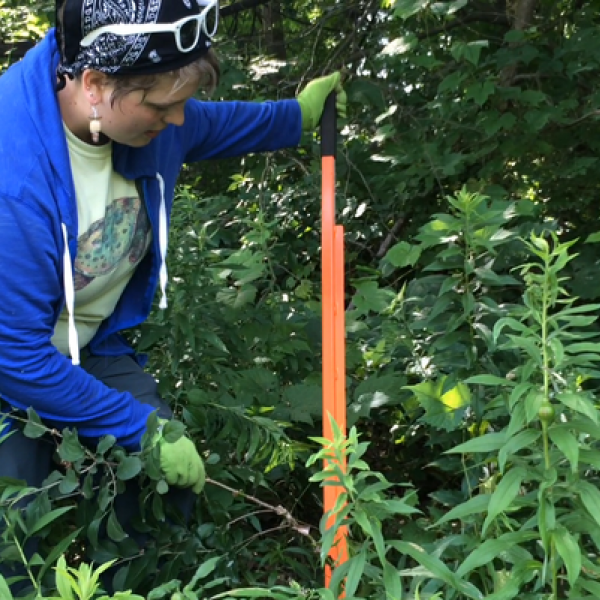 News Source
WINOOSKI — Elizabeth Spinney and her crew walked through Gilbrook Natural Area armed with their weapons of choice, protected by thick gardening gloves and work boots. They were on the hunt for invasive plants, and their recent battle was just the latest in a war that seems never ending.
The invasive species problem continues to get worse as more plants find the Northeast to be a hospitable environment due to climate change. Data from the Vermont Agency of Natural Resources show a steady rise in average temperatures and increasingly shorter winters in the state.
Spinney, the invasive plant coordinator for the Vermont Department of Forest, Parks & Recreation,  was joined by Winooski Valley Park District and Winooski Summer Teen Employment Program members to get rid of patches of buckthorn and honeysuckle in the area. This team was focused on removing invasive plants mechanically, by hand and with hand tools, rather than killing the plants with herbicides.
"The method is really dependent on the situation, but I would suggest mechanical in most instances," Spinney said. "That way you're not spreading chemicals and pesticides unnecessarily."
The buckthorn the group was working to pull out was a man-made problem. People originally brought the plant into Vermont for conservation purposes, according to Spinney, but it was later discovered that the berries were bad for animals' digestive systems.
Vermont isn't alone in combating invasive species like buckthorn. According to the U.S. Fish and Wildlife Service, invasive species cost the U.S. more than $120 billion in damages annually. These damages include things like crop loss from pests in North Dakota and the widespread destruction caused by the Burmese Python in Florida.
Because Vermont's spending on invasive species is divided between departments, federal and state funding and public and private money, an exact total is impossible to calculate. But to put the multifaceted fight into perspective, environmental scientist Ann Bove said the state spends around $500,000 annually just on combating water chestnut, an aquatic invasive.
One invasive plant, the Eurasian watermilfoil, caused some Vermont waterfront property values to drop as much as 16 percent according to the U.S. Fish and Wildlife Service. The spending on invasive species is minor compared to cost of doing nothing according to Paul Marangelo, a conservation ecologist with the Vermont chapter of the Nature Conservancy.
"Invasive species continue to show up in Vermont and the problem will only increase in coming years," Marangelo said. "The issues are only going to get more pronounced as new species find their way in from other states."
And the risk is not just financial; local species are being threatened. Native mussels, while still thriving in many Vermont lakes and rivers, have been mostly eliminated from Lake Champlain by the invasive zebra mussel. Bove, who works with the Vermont Department of Environmental Conservation, said this has also changed how people enjoy Lake Champlain.
"For recreation, many people don't go in the lake without water suits now because of how easy it is to cut your feet on zebra mussel shells," she said.
While Vermont winters are usually effective at killing some invasive plants and pests that aren't adapted to the region's climate, the die-off rate can drop with mild seasons like this past winter. Sometimes weather helps spread invasive plants as well, like when Tropical Storm Irene caused river flooding in 2011 that transported Japanese Knotweed to new territories.
All this means extra work for people like Spinney in the spring and summer that can be hard to plan and budget for.
"It's tough to gauge each year," Spinney said. "We try to focus on what we're already fighting, but we also look to see what neighboring states are fighting so we can be prepared."
Watching surrounding areas is a key part of protecting native species. A new Vermont Agency of Natural Resources rule effective May 1 prevents untreated firewood from entering the state. This is to help stop pests, like the Emerald Ash Borer, from crossing state lines.
Increased vigilance is important, too. In 2015, more than 21,000 boats were inspected in Vermont for invasive plant or animal material by greeter programs — in 2002, that number was less than 1,000 according to the Vermont Department of Environmental Conservation.
"Spread prevention is one of our top priorities, and greeter programs are our first line of defense in preventing introductions as well as educating the public," Bove said.
These greeter programs appear to be having a positive impact on keeping aquatic invasive species contained. According to Bove, 79 percent of Vermont lakes remain free of invasive species — a number she hopes to maintain.
"We have a lot of water resources in Vermont, and we absolutely should be fighting for them," she said.
While Spinney pulled up buckthorn after buckthorn in Winooski, she also remained optimistic.
"People inspire me, especially Vermonters," she said. "We love our natural areas and we all want to protect them. And we should protect what we love no matter what."
This article was first posted online August 1, 2016. Contact Abbey Gingras at the office 802-660-1850 or agingras@freepressmedia.com. Follow her on Twitter at @abbey_gingras
Photo credit: Abby Gingras, Burlington Free Press
Related Invasives