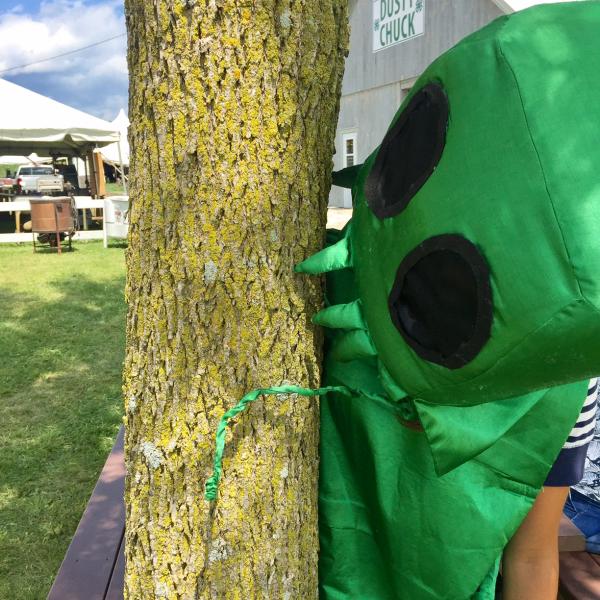 It may be hard to believe, but the emerald ash borer or "EAB" has not been found in Vermont yet. It surrounds us on all of our borders and has taken up residence in 31 states and three Canadian provinces. In case you are feeling out of the loop, here are some great resources to help you stay up to date and prepare for the arrival of EAB. 
The "Resource Hub" on VTinvasives.org will point you to many places and holds a lot of possibilities. It's definitely worth exploring. There is a resource hub for land invasives and one for aquatic invaders. You can find it by clicking on "On Land" or "In Water" at the top right of the homepage. For information on the EAB, you'll want to look at the land invasives page. 
An excellent site that is loaded with information on EAB is www.emeraldashborer.info. It is on this site that you can find the most recent map of the EAB population in the United States. The map is updated at the beginning of every month. This same site is home to something called the EAB University. Here, you will find a collection of webinars from scientists and others who work directly with EAB population monitoring, detection, and research. The webinars can also be found on the EAB University YouTube Channel. They are free and cover a wide range of topics. 
If you haven't already, it is always a good idea to brush up on EAB and ash tree identification. The emerald ash borer invader page on VTinvasives.org has all of this information. You can also attend a Forest Pest First Detector training if you want to go deeper with your commitment to learning forest pest identification and biology. 
Are you a school teacher? Do you have a group of people that you'd like to engage with this material? Contact Meredith Whitney, Forest Pest Education Coordinator with UVM Extension, to see about having a workshop. Meredith is more than happy to make a site visit and offer an engaging program. She also has lots of posters and other such outreach material that you can have to help spread the word. 
Planning ahead for the arrival of EAB is never discouraged. Community preparedness planning resources can be found on the Vermont Urban and Community Forestry website. 
Our neighbors in New Hampshire have some excellent resources too. Check out their website for information on quarantines, compliance agreements, ash tree management, firewood, and other invasive insect updates. Information on the Vermont firewood law can be found on VTinvasives.org or by visiting firewood.vt.gov. 
You can always find updates on social media. Try following: Vermont Invasives, NH Bugs, VTHeatsLocal, and Don't Move Firewood. That should be a good start! 
Related Invasives