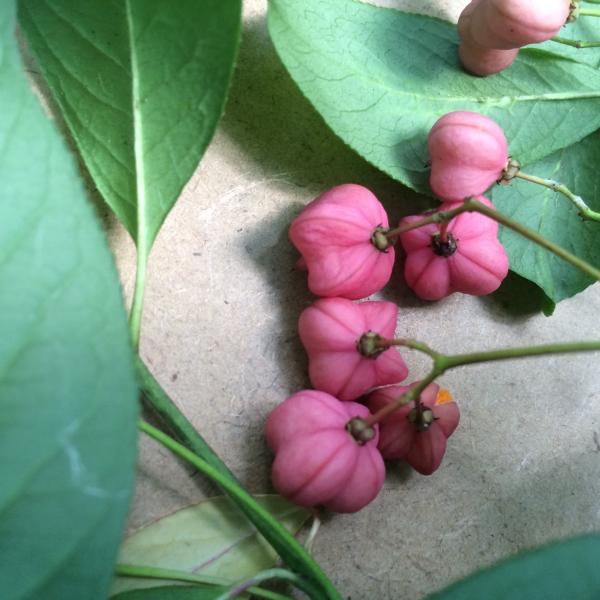 February 2023
Elizabeth Spinney, Forest Protection Section, Vermont Department of Forests, Parks & Recreation
On a walk through the snowy woods of Vermont, you might notice that some plants hold onto their fruit into winter. A common find might be high-bush cranberry (Viburnum opulus) which has distinctive red berries that droop in clusters under snow covered branches. A rarer sight, but also offering bright colors would be the early detection invasive plant, spindle-tree (Euonymus europaeus).
Invasive spindle-tree evolved in Asia and Europe and was introduced to North America most likely because of industrial uses for this woody shrub. The hard wood has historically been used to create spindles for wool, charcoal for art, and oils for soap making. More recently, this plant has become an ornamental landscaping plant. Spindle-tree does well in floodplains, forest edges, early successional habitat, as well as landscaped and disturbed areas, and is known to grow in zones 4-7. This plant has been known to escape from cultivation across most of the eastern United States, from Maine to Wisconsin and down to Mississippi, as well as in the Canadian Provinces of Ontario, Quebec, and New Brunswick.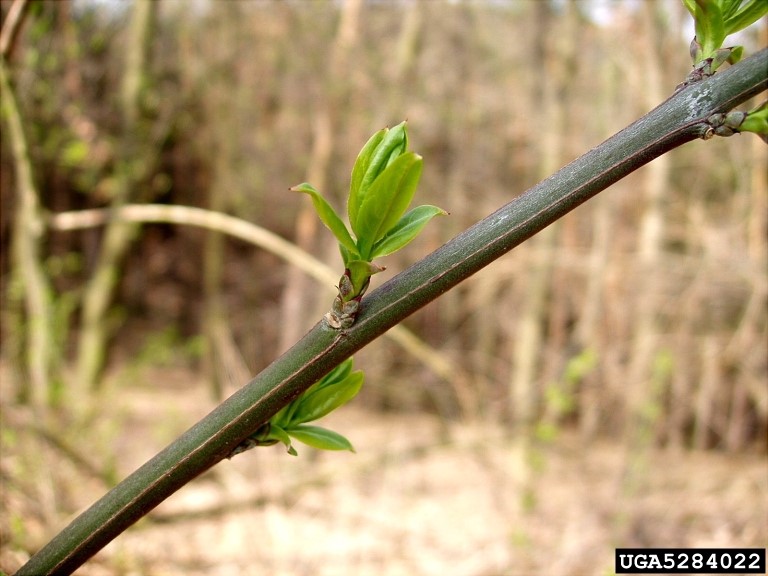 Spindle-tree is a deciduous shrub that reaches heights over 20', has leaves that are oppositely arranged, simple, and oval in shape, with small serrations along the edge, and mature spindle-tree plants tend towards a rounded branching habit. This plant can grow in almost full shade, can tolerate a variety of soils (except wet, poorly drained soils), and is spread by wildlife seed dispersal and root sprouting. Spindle-tree is part of the family, Celastraceae, and is related to invasive Burning Bush (Euonymus alatus). Species within the Celastraceae family are woody shrubs or woody vines, all which have brightly colored flesh around the seeds (arils – like pomegranate seeds), which range from reds to oranges. For spindle-tree, these fleshy seeds are housed in capsules that start out pale green in the late summer and turn color when ripe in the fall. The easiest time to spot spindle-tree is after fruiting occurs, beginning in late summer and lasting well into winter. To distinguish spindle-tree from similar looking plants, look again to the fruits – white seeds coated in orange flesh and surrounded by pink capsules are distinctly spindle-tree.
While not officially regulated in Vermont, this plant is considered an early detection invasive plant, and is on the unofficial Vermont Watchlist. As of 2018, spindle-tree was only reported in three Vermont counties, so if found, please report them using the Report It! Tool on the VTinvasives.org website. 
To learn more about spindle-tree, check out these additional resources:
Center for Invasive Species and Ecosystem Health
Related Invasives