Welcome 
Pesky Plant Trackers - In Vermont!
---
Background
The Pesky Plant Trackers Campaign is a community science opportunity focused on wild parsnip and knotweed. Successful management of these plants is linked to their life cycle events, or when they develop leaves, flowers, and fruits. Project participants are utilizing National Phenology Network's database and their online mapping tool, Nature's Notebook. 
We're helping the researchers for Pesky Plant Trackers bring their efforts to track invasive plant phenology into the Northeast, and need your help!
Wait - what is "phenology" exactly? Phenology means studying the timing of recurring life cycle events in living things, in this case - plants!
Participation in this project is straight forward -- all you need is a Nature's Notebook account, a smart phone or computer, and the ability to regularly return to your plants to make observations.
What is involved:
Log phenology observations of wild parsnip or knotweed plants (you pick!)
Upload those observations through Nature's Notebook
Receive regular updates from project leads about Campaign progress
Take part in the Pesky Plant Tracker community through call-ins, newsletters, and the community blogs!
Time commitment:
The time spent observing will be minimal. So not including travel to where your plants are, expect to spend 2-5 minutes each time you observe. Observations will take place most likely April through October (this is dynamic based on what we are seeing for seasonal plant growth). 
Observations are recommended at least weekly during the growing season, but any observations you can contribute are welcome. 
Who is involved: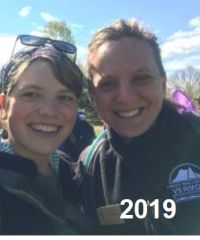 Join us!
See below for the training needed to participate. The training is self-paced, and can be completed in one go, or piece meal. Overall, expect to spend 2-3 hours with the material and setting up your account. 
---
Not Sure yet? Learn more
Visit the Pesky Plant Tracker homepage
Learn about the basics:
What does it mean to track a plant?
What makes these plants pesky?
Why track these plants?
How will volunteer observations be used?
How else are these plants being studied?
Review a step by step guide on how to participate:
Create an account
Select your plants
Sign up to the Campaign
Observe your plants
Report your observations
---
Take part
Access the training:
Learn how to

Identify wild parsnip and Japanese knotweed
Be safe around wild parsnip
Observe seasonal change in plants by inspecting leaves, flowers, and fruits
Share weekly observations using Nature's Notebook
Subscribe to the Pesky Plants newsletter:
Find a Plant
As a volunteer, you will want to find wild parsnip and/or knotweed close to where you live, work, or regularly visit. Follow the link above to learn more about where to find these plants and read about the guidelines to follow if observing on public or private lands. 
See the schedule of events:
to connect with other observers during monthly "Tea Tuesdays" - a chance to socialize, ask questions, discuss plants, and learn from one another. 
access archived "Tea Tuesdays"
see other useful events related to parsnip and knotweed
Read the Pesky Plant Trackers Campaign Community Blog:
Photos and stories from observers across the project
Seasonal tips and tricks
archive of past posts
Read the Pesky Plant Trackers - In Vermont! Blog:
Photos and stories from observers in Vermont
Vermont-based tips and tricks
Access useful links for taking part in the Pesky Plant Trackers Campaign:
---
Vermont Dept. Forests, Parks & Recreation would like to acknowledge the financial and technical support provided by the USDA Forest Service, Northeastern Area State and Private Forestry that enables us to run projects and provide outreach such as this.
The Pesky Plant Trackers Campaign is a project by the University of Minnesota's Department of Forest Resources. Collaborators include the Minnesota Department of Agriculture, Minnesota Department of Transportation, Minnesota Department of Natural Resources, USA-National Phenology Network, and Oregon State University. And now this list includes the Vermont Department of Forests, Parks & Recreation and VTinvasives.