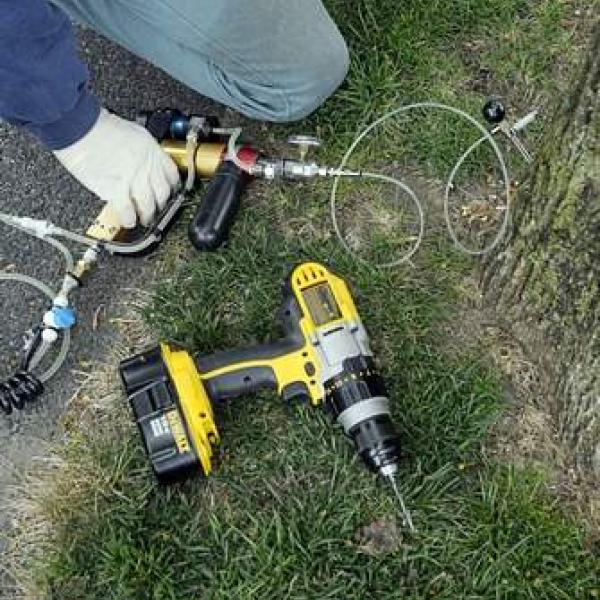 News Source
By Thomas Caywood TELEGRAM & GAZETTE (MA), Saturday, January 10, 2015
WORCESTER — With federal Asian longhorned beetle fighters set to take up their chain saws again to go after newly discovered infestations in the woods of Green Hill Park, at least one city councilor is calling for a resumption of pesticide treatments previously abandoned by the U.S. Department of Agriculture.
Early in the beetle battle, the USDA treated thousands of trees with imidacloprid, a synthetic version of nicotine that's toxic to many insects.
But the agency suspended the pesticide trunk injections after two years in 2011, as the area known to be affected by the beetles grew to include all of Worcester, Shrewsbury, Boylston, West Boylston and parts of Auburn and Holden.
Shocked that significant concentrations of infested trees remained undiscovered in the heart of the city after eight years and millions of dollars spent on the federal eradication effort, District 2 Councilor Philip P. Palmieri said he plans to push for a resumption of imidacloprid treatments.
"When you look at the city and beyond, and you look at the miles of trees that surround us in our neighborhoods and in our parks, we have to know that what we're doing is working. We need a better approach," said Mr. Palmieri, whose district includes Green Hill Park.
The USDA's Asian longhorned beetle eradication czar for Massachusetts, Ryan Vasquez, said the agency might resume imidacloprid trunk injections at some point, but not this year.
Mr. Vasquez acknowledged that the pesticide, while costly to apply, can be effective in killing adult beetles as it spreads through the vascular system of a host tree.
The problem is that there just isn't enough time to inject all of the susceptible trees in the woods of Green Hill Park before July, when Asian longhorned beetles take flight, he said.
"We have all these known infested trees, and we're in a race to get to them before the beetles emerge and disperse," Mr. Vazquez said.
"To remove the trees, that's the only guarantee," he added. "Each tree is its own organism. It might take up the chemical in one side of the tree better than the other, depending on weather or other factors."
Because imidacloprid doesn't bind well to the nerve cells of mammals and birds, it isn't thought to pose a substantial risk to humans in the low doses injected into trees. But a 2012 Harvard School of Public Health study carried out in Worcester County found the pesticide likely has had a role in the worldwide declines in honeybee colonies over the last decade.
Richard Callahan of Holden, a member of the Worcester County Beekeepers Association, worked with the Harvard researchers studying the effects of imidacloprid on honeybees.
"There's no doubt that very low levels of this pesticide, when it gets into bees and probably other insects as well, it affects their behavior," Mr. Callahan said.
Some of the behavior changes, such as leaving the hive in winter, can kill affected bees, he said.
Asian longhorned beetles are known to be especially fond of maple trees, which also happen to be among the first sources of nectar for honeybees in the spring when the trees flower.
"There's no question that the pesticide would get into that nectar. It's very effective at controlling infestations, but it's going to get into every single thing that feeds on the plant," Mr. Callahan said.
While he wouldn't oppose focused local use of imidacloprid to help contain an Asian longhorned beetle infestation, Mr. Callahan said he fears worldwide routine use of the pesticide could seriously threaten the health of bee colonies.
He likens imidacloprid trunk injections to the question of whether or not to take a high blood pressure medication.
"You may need it, but you want to know what the side effects are before you take the drug," he said.
Mr. Palmieri, the city councilor, said he never heard a satisfactory explanation from the USDA why it ceased the Worcester pesticide treatments in 2011.
USDA's Mr. Vazquez said the agency simply had to shift its resources into finding the extent of an infestation that was proving to be much larger than first thought.
At last count, the USDA's contractors had cut 34,323 trees in Worcester County, according to an agency spokeswoman. The USDA has spent $146 million since October 2008 on the eradication effort in Massachusetts, which included a much smaller infestation in Boston.
Now that the agency is confident it has found the boundaries of the infestation in the Worcester area, it may resume imidacloprid treatments in the future, Mr. Vazquez said.
"It's definitely not ruled out. We still find that to be one of the tools we can use in combination with tree removal. It's not off the table," he said.
Mr. Palmieri said he intends to raise the issue of pesticide treatments at an upcoming City Council meeting.
"What the USDA is doing just doesn't seem to be working like our community would expect after all these years and millions of dollars," he said.
Related Invasives