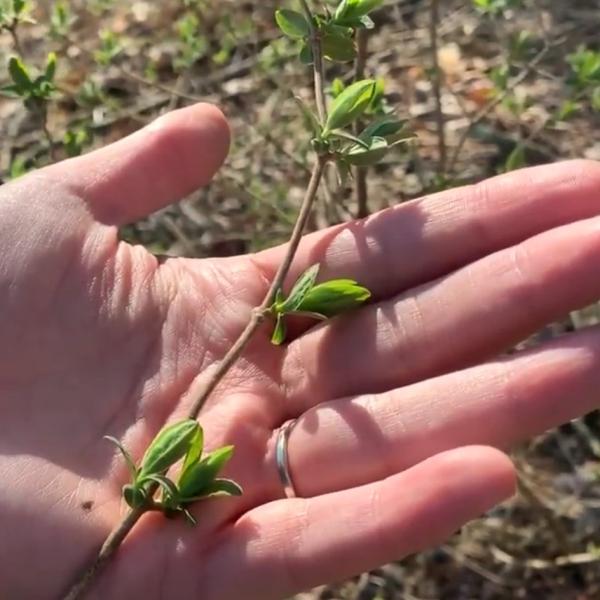 February 2023
Lina Swislocki, Forest Protection Section, Vermont Department of Forests, Parks & Recreation 
Phenology is the study of the timing of seasonal changes in plants. Understanding phenology helps us anticipate when plants will go through certain life stages, like leafing out, flowering, and dying back for the winter. This information is useful for all kinds of research and management – particularly management that depends on precise treatment timing, like managing invasive plants.
Since 2017, volunteers have been collecting information on invasive plant phenology through a project called the Statewide Invasive Plant Phenology Monitoring Project (SIPPMoP). During the second full week of each month of the growing season, volunteers take note of the life stage of whatever invasive plants they see. This monthly addition to people's normal routine, while walking the dog, exploring the woods and trails, or otherwise out and about, provides valuable data that would otherwise be uncollected.
Volunteers submit their findings to the Vermont Department of Forests, Parks & Recreation (FPR), who tabulate the information and include it in FPR's monthly Insect and Disease report. This record of invasive plant phenology reaches land managers, homeowners, and communities across the state, and can be used to inform more immediate treatment planning. A separate research project, the Vermont Invasive Plant Phenology Project (VIPPP), is working to observe longer-term trends in invasive plant phenology, which should aide in predictive assessments of when to complete management.
This year, we need your help! SIPPMoP is always looking for more volunteers; especially anyone that can make observations outside of Chittenden County. This project is a relaxed and supported way to be involved in invasive plant mitigation in Vermont: we have a spreadsheet we share to make data collection easier; we send out reminders ahead of time; and people are welcome to participate on a month-by-month basis -- you don't have to plan your summer vacation around SIPPMoP!
Observation dates this year will be:
April 9-15

May 14-20

June 11-17

July 9-15

August 13-19

September 10-16

October 8-14
If you'd like to be involved, please email us at: anr.fprinvasiveplants@vermont.gov