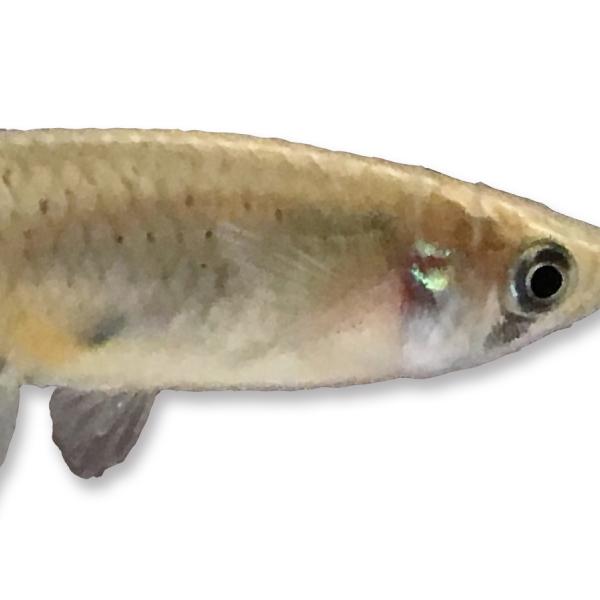 SWANTON, Vt. -- The Vermont Fish & Wildlife Department responded quickly to an angler report of an unusual fish in his bait bucket and cited a Vermont baitfish wholesaler for illegally importing unapproved fish species into the state.
Hog Island Wholesale Bait and Tackle in Swanton was cited under 10 V.S.A. §4601 Taking fish; possession, and 10 V.S.A. App. §122 Fish Management Regulation.  The offense carries with it a five-point violation and $233 fine.  The baitfish wholesaler was also required to destroy a large quantity of baitfish that were held on the facility. 
After receiving a report from an observant angler of an unusual fish mixed in with their purchased baitfish, department fisheries biologists conducted an inspection of the baitfish tanks at the shop where the baitfish were purchased.
Non-native "mosquitofish" were found in tanks containing fathead minnows, and it was determined that Hog Island Wholesale was the supplier of baitfish sold at the bait shop.  Mosquitofish are native to the southern United States but have been introduced outside their native range with negative effects on native fish and water quality.  It is expected that Vermont's cold water temperatures will prevent the mosquitofish from surviving and reproducing in Vermont, although they do survive as far north as New York City.
The day after finding mosquitofish in the original bait shop's tanks, department game wardens and fisheries biologists conducted an inspection of Hog Island Wholesale's distribution center in Swanton and confirmed the presence of the prohibited mosquitofish mixed in with fathead minnows originating from McCallie's Fish Farm in Carlisle, Arkansas.  Other bait tanks containing golden shiners originating from a separate Arkansas fish farm were inspected, and no unapproved fish species were found.
In addition to the criminal charges, Fish & Wildlife revoked Hog Island Wholesale's importation permit for McCallie's Fish Farm and oversaw the destruction of all Hog Island's baitfish originating from that fish farm.  Approximately 700 pounds of fathead minnows and 250 pounds of rosy red minnows were destroyed.
Eric Palmer, Director of Fisheries for Vermont Fish & Wildlife, says these steps were taken to protect the health of Vermont's native fish populations and aquatic ecosystems. 
"Anglers may notice that fathead minnows are no longer available in bait shops around the state," said Palmer.  "We take the protection of our fisheries resources seriously.  Unapproved fish species mixed in with imported bait have the potential to harm the environment and impact the excellent fishing we currently enjoy here."
Palmer said that Vermont's fish importation and baitfish regulations are important tools in fighting the spread of invasive fish species and diseases.
"We are aware that there may be other bait shops in Vermont that received fathead minnows from Hog Island Wholesale," added Palmer.  "We also understand that anglers might possess mosquitofish in their bait buckets from these bait shops.  Although we don't expect mosquitofish to survive and reproduce in Vermont's cold waters, we are asking bait shops and anglers to inspect any commercially purchased fathead minnows and dispose of any mosquitofish that are found.
"The watchful eye of the angler who first noticed and reported the mosquitofish is much appreciated.  By promptly notifying the department, we were able to conduct inspections and take quick action."
To report a fish and wildlife violation, call Vermont Fish & Wildlife's toll-free Operation Game Thief line at 1-800-75ALERT (800-752-5378), or email fwinformation@vermont.gov