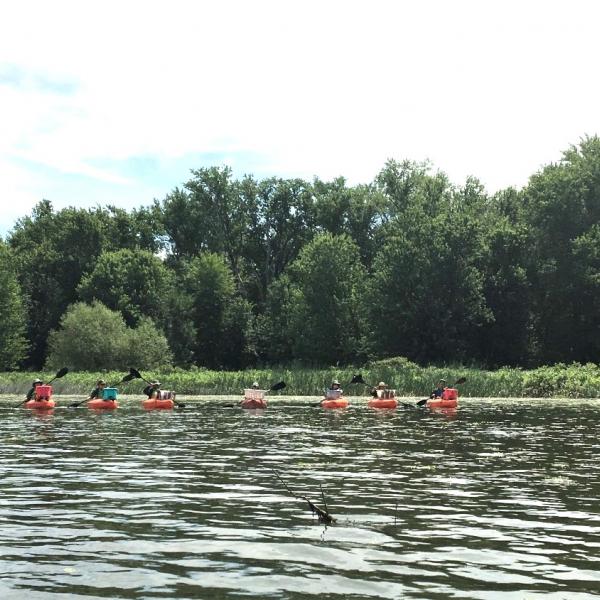 This summer, the Department of Environmental Conservation's Aquatic Invasive Species Program continued its partnership with the Vermont Youth Conservation Corps (VYCC). Two hardworking VYCC crews kayaked on Lake Champlain and other Vermont waterbodies to hand-pull water chestnut, an invasive aquatic plant.  
The first crew, made up of Vermont teenagers, spent most of their service hand-pulling water chestnut on Little Otter Creek and the LaChute River. The second crew was composed of members in their twenties from all over the U.S., including Pennsylvania, Maryland, and California. This crew spent most of their time at Fort Ticonderoga and Benson Landing. The crews supported the other contracted harvesters, including another hand-pulling crew and mechanical harvesters.
The VYCC crews were indispensable, harvesting approximately 27,248 water chestnut rosettes during their combined four weeks of service. The crews learned how to complete organized surveys by paddling parallel lines in their kayaks (shown in photo) to ensure that the hand-pulling efforts were thorough and effective. For all their hard work to conserve native aquatic plants and biodiversity, they were rewarded with beautiful views of Vermont's landscapes and wildlife.
Author and Photo Credit: Lisa Cicchetti, VTDEC Aquatic Invasive Species Program Technician
Related Invasives