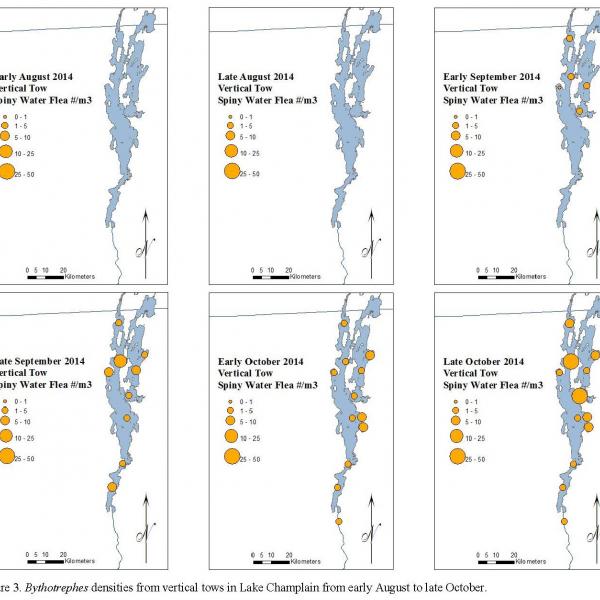 Last year we reported that spiny water flea, an invasive zooplankton, was confirmed in Lake Champlain. Analysis of all samples from August through October has now revealed the remarkable speed at which this nasty crustacean can colonize a waterbody.
Spiny water fleas were first documented in samples from a long-term monitoring site on Lake Champlain in August, 2014, when a single specimen was found. Subsequent samples in September and October confirmed the presence of the invader, and demonstrated how quickly they can spread through a lake and reproduce. By late October, a couple sites on the lake were determined to have spiny water flea densities over 25 individuals / m3, which represents a high concentration even in long-established populations (see figure). In addition, all but two long-term monitoring sites tested positive for spiny water flea by the end of 2014. Complete results from 2014 zooplankton sampling can be found in the Lake Champlain Long-Term Water Quality and Biological Monitoring Program Report.
In response the invasion of spiny water flea into Vermont, the Vermont DEC and other water management groups have stepped up efforts to curb further spread. Plans are in the works to locate hot water power-washing stations at high-use Lake Champlain accesses in Vermont for the summer of 2015 and beyond. These stations will offer hot water decontamination of watercraft and gear free of charge to members of the boating public. Boaters leaving Lake Champlain and planning to use their watercraft on inland waterbodies will be especially encouraged to use the decontamination stations to prevent spiny water flea and other invaders from hitch-hiking to other lakes and rivers.
As with other aquatic invasive pests, the best defense against spreading spiny water flea is to practice Clean, Drain, Dry. Clean off mud, plants, and animals from boats, trailers, and any equipment that comes into contact with lake water. If possible, rinse boats and trailers with hot (140˚ F) water, and soak anchor lines, life jackets, etc. in hot water for at least five minutes. Drain your boat and equipment away from the water. This includes the motor, all live-wells, bait buckets, bilges, ballast tanks, and other reservoirs that could transport lake water. Dry everything that comes into contact with water for at least five days. This is especially important for spiny water flea, as their eggs are hardy and somewhat resistant to drying.
Anyone using a Vermont lake, river, or stream is encouraged to take measures to prevent the spread of aquatic invasive species. Simple spread prevention guidelines can be followed that will reduce the opportunity for harmful pests to further infest other waters.
Article by Josh Mulhollem, VT Dept. of Environmental Conservation
Photo credit: Lake Champlain Long-Term Water Quality and Biological Monitoring Program 2014 Annual Report.
Related Invasives