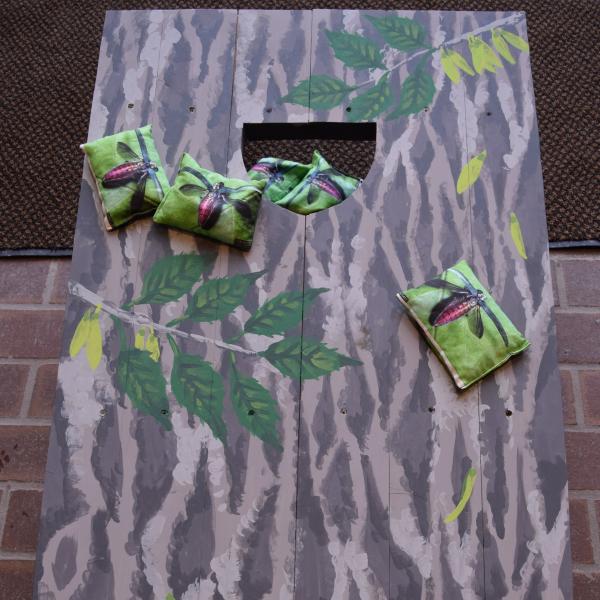 Thank you very much to the volunteers who helped staff our booth at this year's Farm Show! We appreciate your help educating folks on invasive forest pests. Spending several hours on your feet at a trade show can be incredibly exhausting, but all of our volunteers manage to do it with a smile. It is your enthusiasm and dedication to the cause that makes our outreach program so successful. Special thanks to First Detector volunteers Sue Lovering, Judy Wiger-Grohs, Annette Preiss, and Marijke Niles! And a huge shout-out to Judy Rosovsky who not only helped staff the booth but wore the famous EAB costume.
It was at the Farm Show that we debuted our E.A.Bean Bag Toss game. The game was a tremendous success and, for this, we'd like to thank Josh Mulhollem and Katherine Noiva for their help building and designing the game. Katharine Noiva is a local artist, based in Hinesburg, who volunteered her time for us. Click here to check out more of her work.
If you are a First Detector or SOUL volunteer and would like to help at other upcoming events, please contact Meredith Whitney. 
Enjoy spending time outdoors? Concerned about the health of Vermont's forests? Consider becoming a Forest Pest First Detector. Click here for more information.
Related Invasives