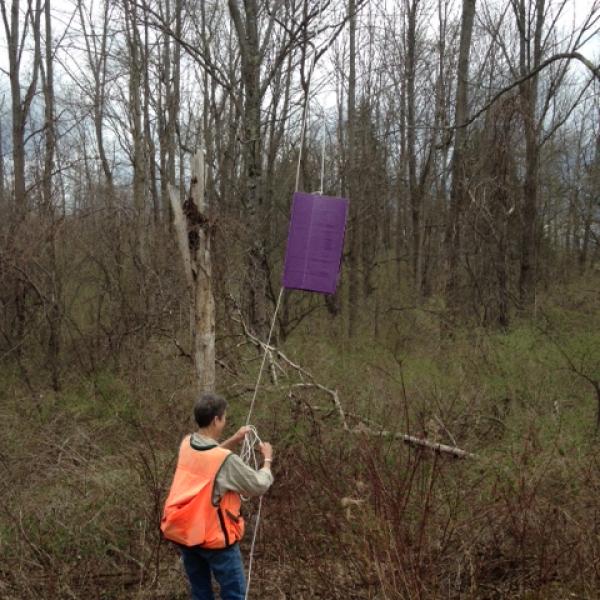 Position Description:
The USDA Animal and Plant Health Inspection Service's Plant Protection and Quarantine (PPQ) program has a vacancy for its 2017 summer survey program.  The program is seeking one qualified individual to assist with the field survey for plant pests that are destructive to Vermont's forests and natural resources. The position runs from early to mid-May through mid-September and is located in Berlin, VT.  Work hours are from 8:00 a.m. to 4:30 p.m., three days per week.  The majority of the work will be in the field. 
The work primarily involves traveling to trap sites, hanging various traps for insects of interest, collecting trap catches, and preparing samples for identification.  Other duties may be assigned as necessary.  Work is primarily outdoors and may include moderate exposure to uncomfortable work conditions, such as working in adverse weather conditions and in difficult terrain.  The work requires physical exertion to walk, bend, stoop, lift items of moderate weight, and climb or hike on slippery and uneven surfaces.  Applicant must have a current driver's license, as survey work may require several hours of driving daily on both highways and in off-road conditions.  Applicants must have good interpersonal skills and must work well independently and with others.  Experience or training in insect and tree identification, plant pest surveys or other types of environmental surveys is preferred.  On the job training will be provided for all aspects of the program. Pay is commensurate with training and experience. 
Deadline for Application:
The position is available starting in early May.  Start date is somewhat flexible.  Applications will be accepted until a qualified candidate is selected.
How to Apply:
You must have a valid driver's license.  A copy of your résumé with at least three references and any college transcripts will be required, along with the following federal form:
OF 306 - Declaration of Federal Employment
Please contact the Plant Protection and Quarantine office at (802) 224-1402 for more information, or send your application materials to stephen.g.lavallee@aphis.usda.gov.
The United States Government is an equal opportunity employer and does not discriminate in employment on the basis of race, color, religion, sex, national origin, political affiliation, sexual orientation, marital status, disability, genetic information, age, or other non-merit factors.