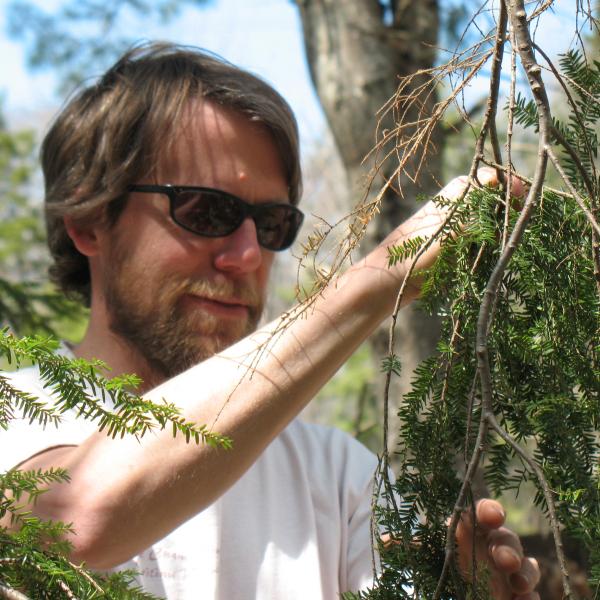 A confluence of several events has renewed concerns for the well-being of hemlock trees in Vermont. The graceful evergreens play a pivotal role in local ecosystems and have been stressed by drought and invasive insect pests. The recent discovery of the invasive hemlock woolly adelgid in New York's Adirondack State Park, a jump of 40-50 miles from the closest previously known spot, has gotten the attention forest managers at the VT Department of Forests, Parks and Recreation. In Vermont, another factor contributing to the concern is that many hemlock woolly adelgids (HWA) survived this past winter.  In the three previous winters, insect mortality rates were very high, giving the trees a reprieve and restricting the infestation's spread.
Hemlock woolly adelgid is an invasive forest pest from Asian that feeds on hemlock trees. It was first noticed in southern Vermont forests in 2007. While tree mortality has not yet been documented in Vermont, many trees, particularly in Windham County are in significant decline. Further south, where winters are not as harsh, HWA is killing trees across the landscape and disrupting important forest ecosystems.
HWA has been located primarily in Windham County, with small populations in Bennington and southern Windsor Counties. Given lower mortality rates last winter, foresters at the VT Department of Forests, Parks and Recreation, expect the infestation boundary to spread. Surveying efforts to monitor this will likely be intensified, particularly in central Windsor Co. But, given the experience in the Adirondacks, hemlocks throughout central and southern Vermont ought to be watched. Tree owners are encouraged to monitor their trees. To learn what to look for and how to report suspicious finds, report it!
Volunteers have traditionally done a significant portion of the surveying. Individuals or groups that are interested in assisting are encouraged to contact Jim Esden at jim.esden@vermont.gov . Training is available. The best time to survey for HWA is from November to March. Click here to learn more about volunteering. 
Citizens can help in other ways. Don't purchase hemlock trees or move hemlock material from infested areas. Brush off clothing, clean equipment and vehicles to remove insects or eggs when leaving infested areas. Take down bird feeders within 100 feet of hemlock trees from April to August; birds are a primary vector.
The Dept. of Forests, Parks and Recreation's HWA program will be broadening its activities to respond to the increase threat. A phenology study will monitor and document the timing of various stages in the HWA's complicated life cycle, to better time management activities. Locating and developing field insectaries will be early steps in a biocontrol program. New methods to monitor the existing biocontrol sites will be implemented.
The Department will continue to survey for HWA, study winter mortality and recovery rates and provide technical advice on protecting hemlock trees to land owners and managers.
Article credit: Jim Esden, VT Department of Forests, Parks and Recreation
Related Invasives