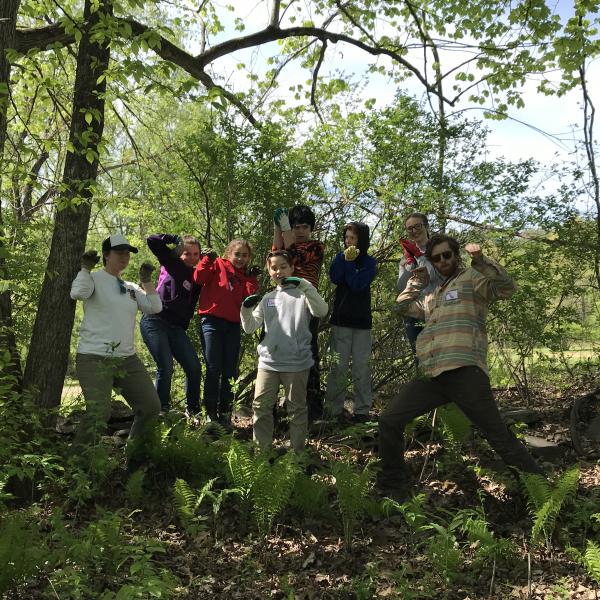 The floodplain forest in Richmond rang out with the excitement and hard work of 50 5th graders. In teams, the students worked to remove a non-native invasive plant—honeysuckle. Their ranks were led by community volunteer, Jon Kart, and the team members of VT Forests, Parks & Recreation's Invasive Plants Program (VTIPP).
The team consists of three people – Elizabeth Spinney, Invasive Plant Coordinator; Heather Ewing, Habitat Restoration Crew Leader; and Lina Swislocki, Habitat Restoration Crew Member. Their work is made possible through a Forest Service Landscape Scale Restoration Grant, and the support of the Vermont Agency of Natural Resources.
Many days the team works on state land, managing the non-native invasive plant populations, answering questions from the public and from within state government, and providing resources to communities to take action. Like that day in Richmond, thankfully, they don't always have to go at it alone.
In addition to pulling up non-native invasive plants, the VTIPP runs educational programs with local schools. These programs generally consist of a classroom component, where the team teaches students about non-native invasive plants, why we care about them, and how to identify them. This is followed by a field component, where students head outside either to a state park or their school grounds, practice their identification skills and then get to work pulling up non-native invasive plants. VTIPP hopes to make a real impact on the management of non-native invasive plant populations, and in the minds of Vermont's youth.
In 2018 so far, VTIPP has taught programs for River Bend Career & Technical Center, Castleton Village School, Camel's Hump 5th graders, Middletown Springs Elementary, Manchester Elementary, Benson Village School, and Brewster-Pierce Memorial School (Huntington). This has included close to 300 middle and high school students and resulted in the removal of several thousand non-native invasive plants. The team loves it because that's several thousand plants they didn't have to pull on their own, and because it gets the next generation of land stewards involved with the task of protecting our native habitats. The schools love it because there are strong curricular connections (4th graders start learning about invasive species in science) and because they find value in the service element. And the kids love it because they get to be outside and have a tangible positive impact on their environment.