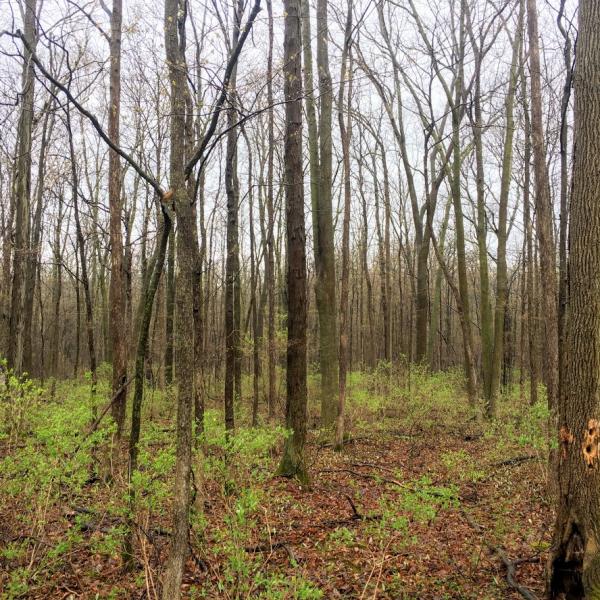 Author: Andrea Shortsleeve, Private Lands Habitat Biologist, VT Fish and Wildlife Department
This April, I am observing the first days of spring like most of you are:  from my home office, socially distant from my friends and co-workers. Spring seems to be arriving this year without much fanfare other than a late season snowstorm, but in the teleworking times that we are living in, its arrival is still a thing to celebrate. In fact, being able to observe and enjoy the daily changes this seasonal transition brings during such a stressful time is a silver lining that I'm holding tightly on to.
The first wave of arriving songbirds has started to return, unaware of the governmental guidance to reduce their size of group gatherings. For the past few weeks, I've been seeing flocks of robins and hearing territorial red-winged blackbirds in my neighborhood. The resident woodcocks came back last week and have been busy strutting their evenings away in the scrubby fields where I walk after dinner. The annual migration of our local amphibians has started, too, with spotted salamanders and wood frogs crawling from their winter homes under logs and leaves to thawed out ponds and pools to start their breeding season.
As I've been taking multiple dog walks throughout the day, I've been noticing the signs of spring in the plants near my house, too. The red maple buds are starting to become more prominent in the canopy and the trunks of big tooth aspen are showing a bright green hue. The dogwood has become bright red, and the willows are showing swollen buds, ready to burst into catkins.
This time of the year in the woods also exposes another early arrival to the seasonal party: our ubiquitous invasive plants. Early leaf out times is one of the key characteristics that give some of our terrestrial invasive plants a leg (or in this case, a leaf) up over the native species they are growing near. Bush honeysuckle and buckthorn, among other invasives, start growing leaves weeks earlier than most native plants in the spring. This creates a competitive edge for the invasives, which allows them to grow in advantageous positions, able to soak up more sunlight and receive more nutrients than our native shrubs, seedlings, and flowers.
Every spring, I tell landowners that this is an ideal time of year to go walk around their properties to start figuring out where the invasive plants are growing. The green haze of young honeysuckle, barberry, and buckthorn leaves against the otherwise brown and dormant backdrop is the one of the only advantages that we can get in our constant battle against these persistent invaders.
Becoming familiar with and creating maps of where your invasives are located is the first step in controlling their presence on your property. Once you know what you are dealing with, you can start planning how you are going address them, and which areas on your land are a priority for you. This will be incredibly helpful to keep you focused and on track with your invasive plant activities once our normal lives start again and our days become busier. And having a systematic, illustrated approach can help show the progress that you've made in a potentially overwhelming situation.
Spring is also a good time of year to begin doing some actual removal of woody invasive plants from your property. Manual removal is the best method right now for species like buckthorn, barberry, and honeysuckle. Soil is usually wet at this time of year, making it easier to pull up their deep roots, and the plants don't have their seeds or berries formed yet, so you will take away their ability to reproduce this year. The Vermont Invasives website has very helpful charts for each of these species, indicating which treatment method is best for this time of year:
This year, April's rainclouds seem like they are coming in not only with spring showers but also with each news report. It's easy to forget the amazing pulses of life that are busily waking up in our woods, right outside of our windows. While we can't be out close to people, we can certainly be out and close to nature. And I encourage you to get out and get close to it, especially to those invasive plants
Photo Credit: Andrea Shortsleeve