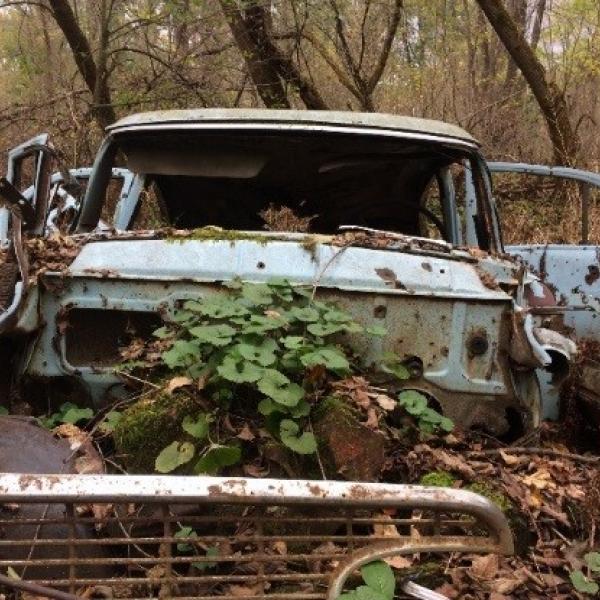 The growing season for 2017 saw many projects across the state tackling the forest, field, and wetland health issue of non-native invasive plants. Below are highlights of some of these amazing local efforts. Huge thanks to everyone who is working toward making our Vermont landscapes healthier and more resilient, and protecting them for generations to come.
Tool Loan Pilot Program: In an effort to increase access to non-native invasive plant management (NNIPM) tools, the VT Department of Forests, Parks & Recreation (FPR) District 3 (Northwest) office started a pilot program, loaning out weed wrenches to local organizations, municipalities, and private landowners. FPR's Invasive Plant Coordinator communicated with participants and organized pick up and return dates. The wrenches were successfully borrowed and returned 8 times throughout 2017. The Coordinator shared information about the pilot program at speaking engagements throughout the year, and the tools are stored and available for pick up at FPR's main office in District 3.
South Burlington, VT: The City of South Burlington completed its first Weed Warrior season in September of 2017. The goal of the program is to create a corps of trained volunteers focused on removing NNIP in City parks. 2017 efforts were focused on City Center Park. Each of two trainings were followed up by a separate Invasive Plant Removal Day (May, September). These trainings and workdays were assisted by a professional NNIP expert, and weed wrenches were loaned by VT Forests, Parks & Recreation. Species of concern included: glossy and common buckthorn, multiflora rose, and bush honeysuckles.
Volunteers at the park this summer included members of the community, Vermont Youth Conservation Corps, students from the Frederick H. Tuttle Middle School, and employees from Stantec Consulting Services. In total, 33 volunteers participated in our Weed Warrior Program and 47 additional volunteers help out via the other events. Approximately 50,000 individual buckthorn (or other plants) were physically removed.
The City will be monitoring the regrowth of all NNIP in the park in 2018, and plan to hold more events next year to assist the City in managing these plants in the years to come. Additionally, the City is hoping to expand the program and begin it at a different park to attract a new community of volunteers. These efforts were made possible by the following community organizations: City of South Burlington; Vermont Forests, Parks & Recreation; Starbucks Coffee; The Mill Market & Deli; and Gardener's Supply Company.
Richmond, VT:  Since 2009 the Great Richmond Root-Out! has worked to control invasive plants on 120 acres of state-significant silver maple-ostrich fern floodplain forest—the largest remaining example of this now rare natural community on the upper Winooski River. In addition to its ecological importance, this area is also prized by the people of Richmond who use it extensively for hiking, biking, bird-watching, fishing, boating, and nature exploration. Participating lands are owned by the Town of Richmond, the Richmond Land Trust, The Nature Conservancy and private landowners.
Many volunteers have helped the Root-Out over the years, including community members, middle and high school science classes, UVM, land trust members and more. This past year both 5th and 7th grade science classes from Camel's Hump Middle School got very connected. They spent class and field time learning about floodplain ecology and they helped remove invasive plants. Thanks to their help and that of all Root-Out! volunteers, knotweed, barberry, honeysuckles and phragmites infestations have all been shrunk by 95-99% since the program's inception. 
Bennington County, VT: The Battenkill Watershed Comprehensive Invasive Species Management Association, along with the Bennington County Conservation District, spent 54 hours this field season mapping Japanese knotweed in the Green River subwatershed of the Batten Kill (digitally and on the ground). These groups also reached out to and met with 37 landowners along Tidd Brook and the Green River in the watershed in efforts to build a landowners' Japanese knotweed management association. The new habitat steward for the BK CISMA has hand-pulled 2.3 acres for over 10 hours, with the help of Equinox Preservation Trust (caretaker Rick LaDue), removing honeysuckle, common buckthorn, glossy buckthorn, Asiatic bittersweet, burning bush, goutweed, Japanese barberry, and wall lettuce. The habitat steward also co-hosted a workshop with VT Fish and Wildlife on October 21st, with 11 individuals in attendance. 
Burlington, VT: With the help of a Community Colleges for Environmental Sustainability grant, Heather Fitzgerald's Moving Towards Sustainability students at CCV-Winooski organized a restoration effort on impaired Englesby Brook where it runs next to Champlain Elementary School. They worked with Roger Klinger and Betsy Patrick's 3rd grade classes to uproot buckthorn and plant 60 bare root dogwoods from Intervale Conservation Nursery in place of the buckthorn. They also planted 15 dogwoods in an area of bare, compacted soil and 30 live stakes in riprap. The 3rd graders also collected garlic mustard and made pesto with Champlain school chef Kaye Douglas. Heather's Landscape Natural History students from the University of Vermont took the 3rd graders on a tour of Burlington Urban Wild Crescent Woods, just upstream from the school, so they could see what an older, more intact forest looks like and imagine what their efforts might help lead to.
Burlington, VT: The Winooski Valley Park District (WVPD) works with and relies on local schools, youth groups and other volunteer groups to manage NNIP across their parklands.  This year they continued mapping NNIP at the Ethan Allen Homestead property in Burlington and also at Derway Island in Burlington. This mapping work has helped to focus their efforts on higher priority areas.  Recent removal days targeted these high priority areas and involved a removal day at the Ethan Allen Homestead with a Boyscout Troop and a staff training/removal day at Derway Island. They plan to continue mapping and targeting future removal and mitigation efforts at all of their parklands.
Article Credit: Elizabeth Spinney, VT FPR
Photo Credit: Jon Kart, "Garlic Mustard in the floodplain forest in Richmond, VT"