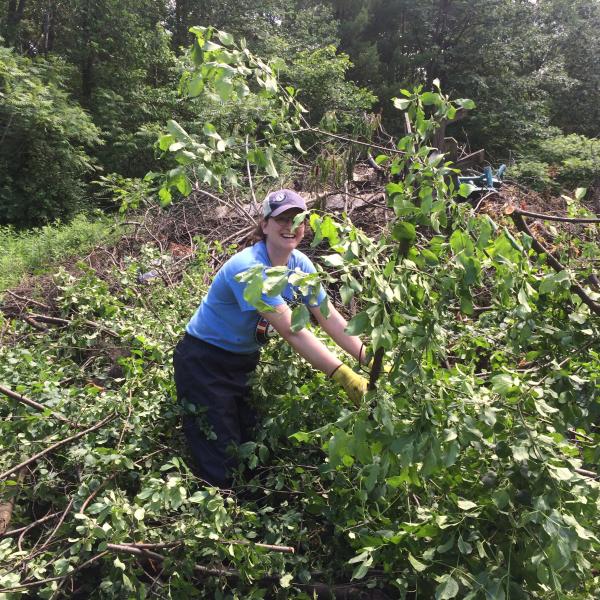 News Source
Monitoring for and treating invasive terrestrial plants are some of the more important things you can do to take care of Vermont's working forests and natural areas.
Effective July of 2016, yard and leaf debris were banned from landfills, including material from invasive plant control. The Waste Management and Prevention Division of the Department of Environmental Conservation, offers the following as recommended practices to comply with the Universal Recycling Law, as well as continue to protect our natural resources.
This guidance document outlines the following four steps when considering disposal of invasive plant material:
1. Identify, report, and learn about management of the species by visiting these resources:
2. Kill invasive plants on site by suffocation and heating in the sun using tarps, plastic bags, or other methods before removing from the site. Web research will reveal details on how to use solarization as a destruction method.
3. Removal. It is recommended to solarize invasive plant material prior to taking it off-site. Composting facilities may accept the material; contact your local solid waste district or visit the VT Recycles website for compost facilities near you.
4. Disposal as a last resort. As a last resort, you may dispose of invasive plant matter in trash. Leaves, grass clippings, brush and clean wood are banned from trash disposal however.
Check out the full guide for recommended practices here.
They also caution that composting invasive plants at home may not adequately destroy plant reproductive parts, and that transporting invasive plants can potentially increase their spread if done without care to contain.
If you are interested in learning more about management options for invasive plants, check out the 'Gallery of Invaders' and the 'Resource Hub' at Vtinvasives.org.
To learn more about the Solid Waste Rules, check out the Department of Environmental Conservation, Solid Waste Management Program (information on the Solid Waste Rules, Universal Recycling, Find a Facility, Disposal Options):
For any questions regarding invasive plant disposal, contact the Vermont Department of Environmental Conservation Waste Management & Prevention Division at: (802) 828-1138, or vtrecycles.com.