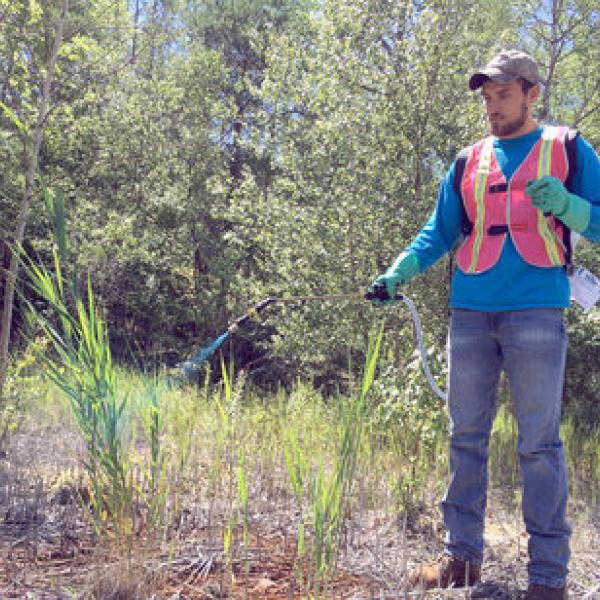 News Source
KEENE VALLEY - Despite the discouraging discovery of an invasive species near Lake George, the Adirondacks have also seen some recent bright spots in the fight against invasive species.
Hemlock woolly adelgid (HWA) was discovered by a scientist on the slopes of Prospect Mountain in Lake George a few weeks ago, and is seen as a harbinger of bad things to come.
But other groups have also recently stopped a potential introduction of hydrilla and research suggests that attempts to control Phragmites in wetlands can be quite successful when the infestation is caught early.
A study recently published in the journal "Biological Invasions," and written by Adirondack Park Invasive Plant Program head Brendan Quirion, shows that eradication efforts of Phragmites (also known as common reed grass) have been quite successful in the Adirondacks.
The study, which uses APIPP data going back to 2010, showed that smaller patches of the invasive wetland plant were more successfully eradicated than larger ones.
APIPP has managed more than 300 individual sites of reed grass throughout the Adirondacks, and mapped each site annually. When stems of Phragmites were not found for three consecutive years, the grass was considered eradicated from the site.
The study, "Management of invasive Phragmites australis in the Adirondacks: a cautionary tale about prospects of eradication," reports that the federal budget for invasive species control was more than $2.2 billion last year. Despite this immense expense, little is known about the effectiveness of eradication efforts.
"The ultimate goal of engaging in management of non-indigenous plant species is to either prevent future or reduce current negative impacts," Quirion and the other authors wrote. However, "many management interventions remain under evaluated, or results are not readily accessible and managers continue to rely on experience-based learning."
The authors conclude that this study offers both hope and caution, noting that treating small patches of Phragmites is successful, but once the plant is established in larger plots, the probability of eradication drops considerably.
---
Hemlock woolly adelgid
With climate change accelerating, invasive species are on the move, and a recent discovery near Lake George does not bode well for trees in the Adirondacks.
In July, a senior ecologist from the Harvard research forest found the pest on an old-growth hemlock on Prospect Mountain.
HWA is an invasive insect that can ravage hemlock forests. The state Department of Environmental Conservation said in a press release at the time that cutting down trees infested with the small, white insect is ineffective, but added that applying insecticide to the base of the tree allows the poison to spread throughout the tree. When HWA start feeding on the tree, the insecticide kills them.
Although this infestation appears to have been spotted early, there is little in the way of good news here. This is the first time HWA has been found within the Blue Line, despite being present in New York since at least the 1980s.
The really bad news with HWA is the amount of food it has at its disposal in the northern part of the state. While the Southern Tier has seen a steady spread of the insect over the last 30 years, DEC's Region 5, which covers most of Adirondack Park and northeastern part of the state, offers a buffet that is unsurpassed anywhere in New York.
DEC's Region 3, in the Catskills, has about 354,000 acres of hemlock stands. Region 5, on the other hand, has well over 1.6 million acres of hemlocks. When Region 6's St. Lawrence, Herkimer, Lewis and Jefferson counties are added, HWA is knocking on the door of more than 2,258,000 acres of its favorite food.
---
Hydrilla
There was another invasive species success story at the beginning of the month. Watershed stewards from Paul Smith's Adirondack Watershed Institute managed to intercept a fast-growing, highly invasive species just before it was introduced into a local lake.
According to a press release from Paul Smith's College, hydrilla is also known as "Eurasian water milfoil on steroids" because of its ability to quickly take over a waterway. Hydrilla can also reproduce itself in the same way milfoil does, by growing new plants from small fragments that break off established plants.
The release goes on to say that hydrilla can grow up to one inch per day and cost tens of millions of dollars to control once established. A 2014 economic impact report commissioned by APIPP estimated that the introduction of hydrilla to Adirondack waterways could result in an annual loss of almost $10 million.
Hydrilla creates large mats of dense plants, which make swimming and boating difficult, and can drive out native plant species, affecting fish and aquatic ecosystems as well as the ability of people to sport fish infested waters.
Related Invasives