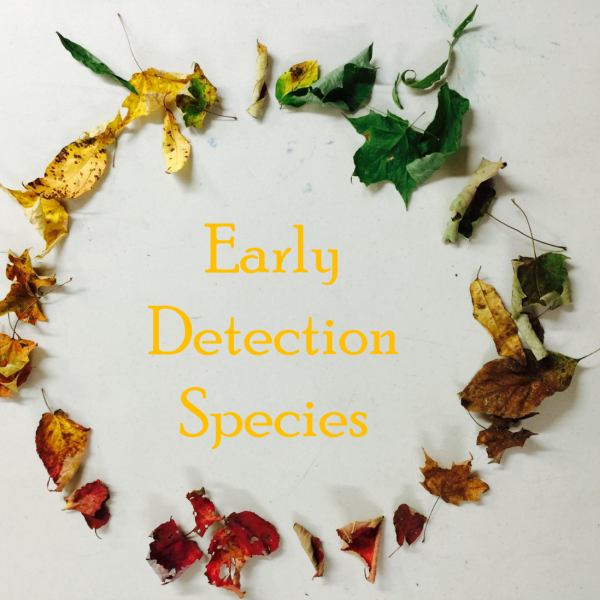 The Mapping for Healthy Forests Vermont project on iNaturalist is well underway for the 2016 growing season. Already, volunteers have collected over 1,700 observations across the state, from Woodford to Highgate! If you would like to be part of the action, check out www.inaturalist.org, join the "Mapping for Healthy Forests: Vermont" project, and start logging observations; no botany background required!
There are many ways to participate in the project:
*hosting a mapping workshop for your community (contact Elizabeth Spinney to learn more: elizabeth.spinney@vermont.gov)
*logging observations along your favorite places to walk and hike
*become a Super Star Mapper! (http://www.vtinvasives.org/news/mapping-healthy-forests-superstar-meg-mc...)
*focus on mapping the common invasive species in Vermont (check out the Chittenden County, Vermont guide on iNaturalist for a list of species)
*focus on mapping less common early detection species that aren't established yet in Vermont
This month will highlight one early detection species, Black Swallowwort. 
Black swallowwort was first recorded in Massachusetts in the mid 1800's. It is a perennial vine from Europe that invades shores of rivers and lakes, forest edges, forests, fields, and disturbed habitats like roads, trails, and urban/suburban landscapes.
The biggest threat from Black swallowwort is that it forms dense patches in shade or full sun, and produces a chemical toxic to mammals and many insect larvae, including monarchs.
This plant is prohibited in NY, MA, NH, and VT.
If you are looking out for Black Swallowwort here are some identification clues:
*The vines can grow over 6 ft
*The leaves are opposite, lanceolate to ovate, and a dark glossy green, 2-4" long
*Flowers can be seen June-September, have 5 petals, and are dark purple
*Seeds: appear in pods in late summer into fall, and are similar to those of milkweeds (belongs to the milkweed family) http://www.vtinvasives.org/invaders/black-swallow-wort
Resources to learn more: 
https://gobotany.newenglandwild.org/species/cynanchum/louiseae/
https://gobotany.newenglandwild.org/species/cynanchum/rossicum/
http://adkinvasives.com/species_of_concern/swallow-worts/?in=terrestrial...
http://mnfi.anr.msu.edu/invasive-species/Swallow-wortBCP.pdf
https://extension.entm.purdue.edu/CAPS/pestInfo/paleSwallowwort.htm
http://dnr.wi.gov/topic/Invasives/fact/PaleSwallowwort.html
https://www.nps.gov/plants/alien/fact/cyro1.htm
***********************************************************************************************************
The Mapping for Healthy Forests project aims to map and monitor the locations of invasive plants in Vermont, along common points of introduction, like roadways and in shared spaces like parks and town forests. With this mapping effort spread across the whole state, towns and land owners will not only know what invasive plants are near their land, but by knowing what plants are just down the road, landowners can know what to look out for to prevent certain species before they're a problem.
Volunteers will get hands-on experience on how to use citizen science mapping programs on your daily walks or excursions on public land. Get access to free tools available online and on mobile devices, to track where invasive plants are located along roadways on town and state land. These events are trainings, but will also collect real information to be used in the project, so volunteers will be contributing immediately to conservation efforts, statewide and in their communities! Contact Elizabeth Spinney for details (elizabeth.spinney@vermont.gov)
Article Credit: Elizabeth Spinney, VT FPR
Photo Credit: Elizabeth Spinney, VT FPR, "Early Detection"