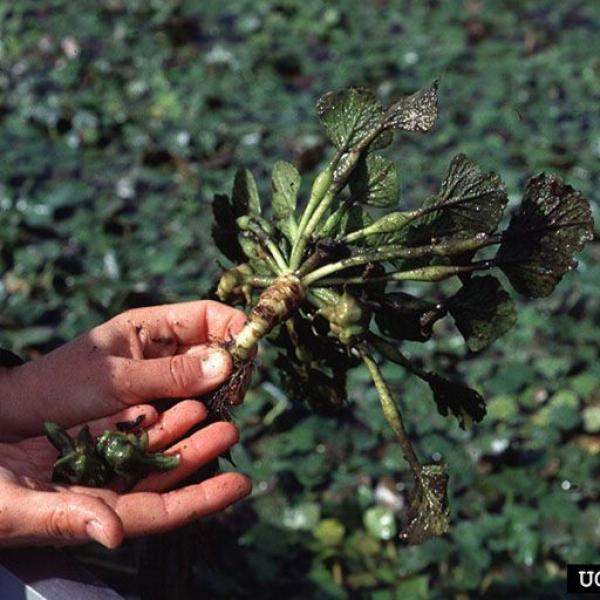 News Source
"MAYNARD Water chestnut, an invasive water plant, has a nature akin to lily pads on steroids, growing rapidly in nutrient-rich fresh water ponds, lakes and slow-flowing rivers. Unchecked, it will almost completely cover water surfaces, making boating, swimming and fishing impossible. The dense floating mat of overlapping leaves also blocks sunlight penetration, causing oxygen deprivation lethal to fish and other animal life. In addition to this ecological horror story, the large, sharply pointed seeds, which mature in early August, fall to the bottom and can cause painful wounds if stepped on.
This species, Trapa natans, is not to be confused with the edible water chestnut common to Chinese cuisine. The plant was initially brought to the Harvard University Botanic Garden, possibly from southeastern Europe or western Asia. In the 1870s staff gardener Louis Guerineau took it upon himself to throw seeds into Fresh Pond and other Cambridge waterways. This came to the attention of botanist George E. Davenport, who decided to bring seeds and live plants to his friend Minor Pratt, in Concord. He and Pratt seeded a pond near the Sudbury River, and he suspected Pratt conducted additional distributions. Thus, Cambridge was point zero and Concord the plus one. Current distribution ranges from Canada to Maryland and westward into New York and Pennsylvania.
As early as 1879 there was a concern voiced by botanist Charles S. Sargent, director of Boston's Arnold Arboretum, that this non-native species threatened to become a nuisance, based on dense growths reported in Cambridge. Davenport fessed up in the Bulletin of the Torrey Botanical Club, Vol. 6: "I have several times had plants of Trapa natans that were collected in the vicinity of Boston, during the present year, brought to me for identification, and I have entertained no doubt as to the manner of its introduction into waters outside Cambridge Botanic Garden. But that so fine a plant as this, with its handsome leafy rosettes and edible nuts, which would, if common, be as attractive to boys as hickory nuts now are, can ever become a 'nuisance' I can scarcely believe."
This past Saturday a doughty band of about 16 volunteers, organized by Organization for the Assabet Sudbury & Concord Rivers (OARS), launched canoes onto the Assabet River from the property of Bob Collings, in Stow, to put in three hours pulling water chestnut plants. I was there as a first-time participant. What this involved was paddling upstream about one-third of a mile. Two occupants per canoe would steer into an area with plants to pull them by hand, each yank resulting in a dripping, muddy mess dropped into laundry baskets in the middle of the canoe. After a half-hour of this, the laden canoes would be paddled back to the launch site, the baskets lugged ashore to a compost pile, the canoes bailed out, the process repeated. Messy, messy, messy! The harvest was 60 full laundry baskets.
Years of these visits, conducted every July before the nuts mature and fall to the bottom, have done a great job of eradicating the plants from long stretches of the Assabet River and reducing density in the still impacted parts. Surveillance visits are repeated each year, because while most seeds sprout next spring, some are still viable as much as eight to 10 years later.
Worst case: without the past, present and future efforts of volunteers from nonprofit organizations, the Assabet River upstream of the Ben Smith Dam could have become blanketed shore to shore with water chestnut. A few rosettes would have broken loose from anchoring stems, floated down the canal and ended up infesting Maynard's mill pond.
To get an idea of how bad it can get, Vermont spends more than half a million dollars a year hiring companies with mechanical harvesters to manage the worst parts of Lake Champlain, plus paying dozens of people to do hand-pulling in less-infested waters on the big lake and elsewhere. The 2013 report described 1,200 tons collected by the harvesters and more than 21 tons by hand. Locally, mechanical harvesters have been needed on badly impacted parts of the Sudbury River. Heavily infested areas can also be treated with chemical herbicides, but these are non-selective, killing all plants. Researchers are looking into biological controls (plant diseases or insects from parts of the world where water chestnut originated), but are wary about introducing anything that is not species-specific." Photo credit: A Cofrancesco, http://creativecommons.org/licenses/by-nc/3.0/us/ Article credit: David Mark, Maynard Wicked Local, The Beacon
Related Invasives