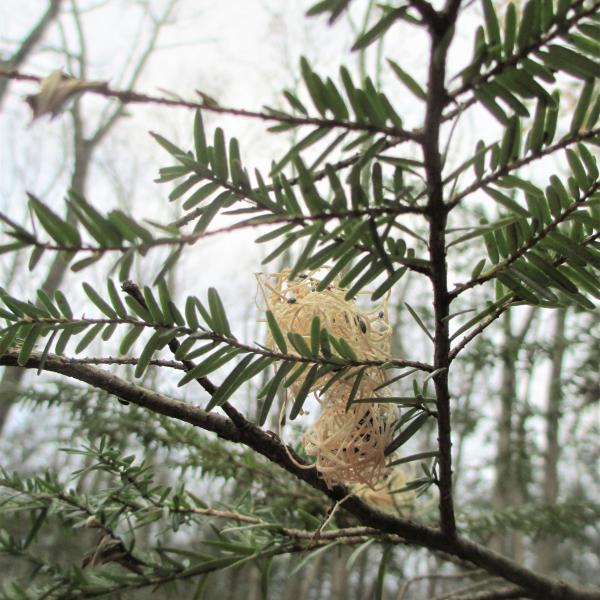 The winter of 2016- 2017 was a good one for hemlock woolly adelgids (HWA) in Vermont, which is probably bad news for hemlock trees. The adelgid is an invasive forest insect that attacks hemlock trees and was first discovered in Vermont in 2007. Last winter's HWA mortality rate was only 65%, compared to 99 – 97% for the previous three years. Forest health staff at the Department of Forests, Parks and Recreation (FPR) expect the HWA population to grow, the infestation boundary will expand, and trees may experience more feeding damage. To document these consequences, the Department is seeking volunteers to help survey for HWA.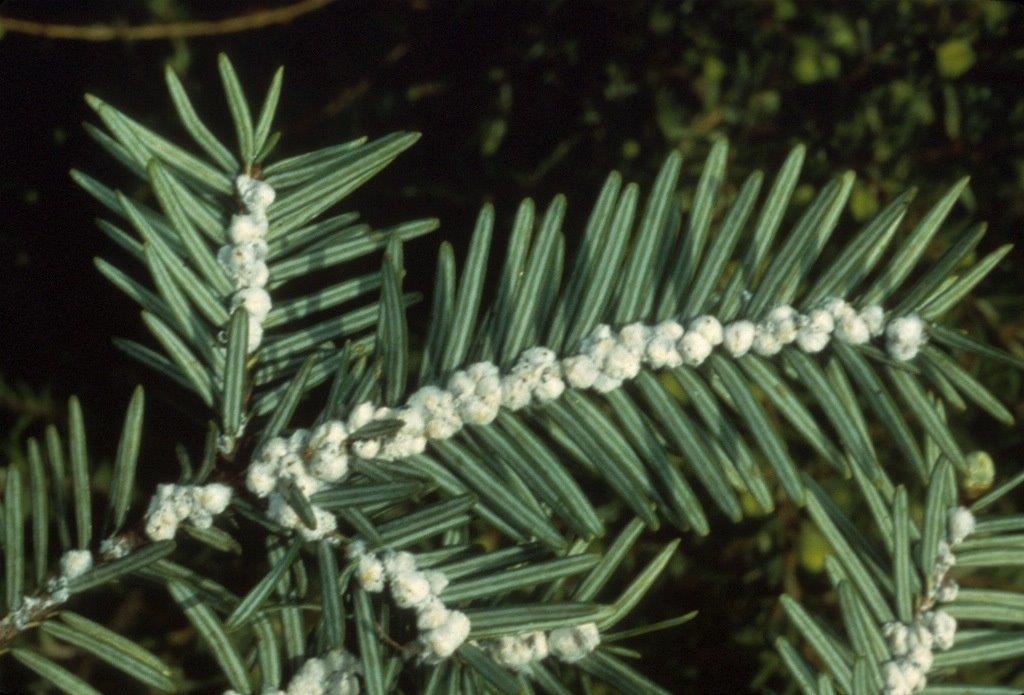 Hemlock woolly adelgid has an unusual and complicated life cycle. Unlike many insects, hemlock woolly adelgid has two generations each year and one of them is active through the winter. As this generation feeds on the underside of twigs, it develops a white, fuzzy covering that gives it its name.
This covering is very apparent from November to May and makes winter the best time to survey for HWA. Volunteers have been a significant part of the surveying work for several years. Many combine other activities, such as skiing, snow shoeing, hunting, birdwatching, and snowmobiling with surveying.
The current hemlock woolly adelgid infestation is primarily in Windham County, with some overlap into southern Windsor County and one isolated spot in Bennington County. Areas adjacent to the known infestation are of greatest interest to FPR; towns of Weathersfield, Chester, Londonderry, Woodford, Stamford and Bennington. New priorities have developed because HWA is often spread by the wind. In fact, it is believed that HWA came to Connecticut from Long Island when winds from a hurricane blew insects in their fuzzy spheres across Long Island Sound. Given the randomness of this method of spread, the importance of hemlock trees and the many large wind events that we have experienced in VT lately, FPR would like volunteers to survey hemlock sites in the Upper Valley, Western Rutland County or the mountains of Bennington County. Forestry staff stress that any observations – even in other places and even if nothing is found – should be reported. It is important to know where the infestation is not, as well as where it is.
On a more positive note, FPR received a shipment of Laricobius nigrinus beetles on November 30. They were deployed the same day to augment an area that had received beetles a few years ago. Sometimes called Lari, for short, these beetles are natural predators of hemlock woolly adelgid. The beetles in this shipment were captured in the mountains of North Carolina where Lari beetles have been used in the fight against HWA for several years. Lari has colonized these areas and is now common enough that some can be harvested and transferred to other places.  The North Carolina population came from the Pacific Northwest, where both Lari and HWA are native.
Long-term management of HWA in Vermont will include the use of biocontrols like Laricobius nigrinus. Predatory insects must be introduced to an area when conditions are good for success. A critical factor for success is to know when two important HWA life stages occur. FPR has begun a project to collect HWA life stage observations from throughout the infested area to refine our understanding of HWA phenology.
The Department is seeking assistance from volunteer citizen scientists for this phenology project.  Phenology observers will select infested trees and mark branches to monitor. Once or twice a week during certain seasons, they will inspect twigs to determine when the winter generation breaks aestivation, when they lay eggs and when the tree breaks bud.
Anyone interested in assisting with HWA surveys or the phenology project is asked to contact Jim Esden at jim.esden@vermont.gov or 802-777-1591. FPR will provide training and needed materials.  
Article credit: Jim Esden, Vermont Department of Forests, Parks and Recreation
Photo credit: Jim Esden and Barbara Schultz, Vermont Department of Forests, Parks and Recreation
Related Invasives