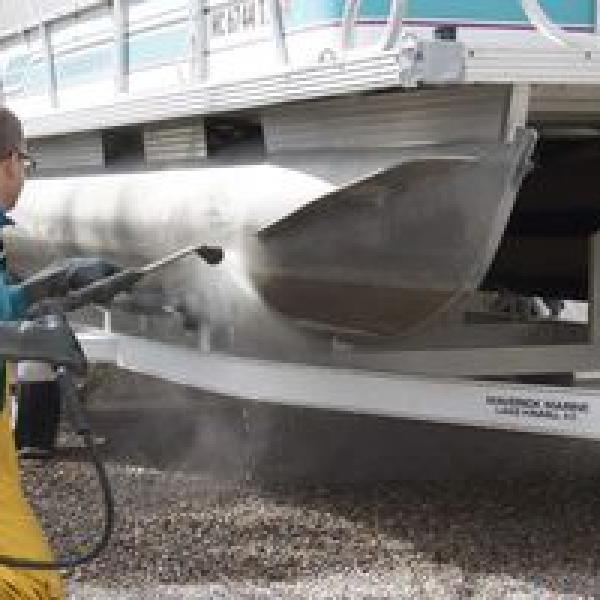 News Source
By SAM WILSON Daily Inter Lake | 0 comments
Montana's wildlife agency announced Wednesday that invasive mussels had been detected in a reservoir in Eastern Montana, the first such detection in the state. The discovery has fisheries managers scrambling to re-test samples taken from other water bodies in the state, but so far the tests have not revealed any additional contamination west of the Continental Divide.
Stephanie Hester, the Montana Invasive Species Advisory Council Coordinator, said contamination in the Tiber Reservoir east of Shelby — first detected Oct. 17 — was likely contaminated by a recreational watercraft that had not been properly cleaned. No adult mussels have been found in the reservoir, but the state has confirmed the presence of mussel larvae.
"They've had a positive identification that they are veligers, which is the juvenile form of quagga and zebra mussels, but they're too early for us to even identify a species," Hester said. "Once they got the positive and understood that it's the juvenile form, the next step is to figure out whether adults are established."
At Canyon Ferry Reservoir near Helena, a water sample test was inconclusive, but produced "suspect" results that could indicate the mussels have spread to that body of water as well.
Until the detection last month, Montana had been one of just a handful of states — most located in the Northwestern U.S. — still free of invasive mussels.
States farther east and south have for years grappled with quagga and zebra mussel introductions in lakes and other bodies of water, where the tiny bivalves are known to quickly multiply and cause significant ecological and economic impacts. The mussels can blanket beaches and underwater surfaces with sharp shells while causing millions of dollars in damage to infrastructure such as dams and irrigation systems. Ecological systems can also be significantly altered by the aquatic invaders.
MONTANA FISH, Wildlife and Parks' Fisheries Division Administrator Eileen Ryce said that Flathead Lake and other bodies of water in Northwest Montana are sampled each summer and have not returned any positive tests for invasive mussels.
Earlier this year, a Pablo check station for watercraft headed into the Flathead Valley intercepted a pair of mussel-contaminated boats from Arizona. A subsequent inspection determined that the mussels were dead when they arrived, but underscored the potential for a single sullied boat to dramatically alter the ecology of the lake and threaten its status as one of the region's main economic drivers.
"Clearly if we're going to keep them out of Western Montana, we're going to need to significantly ratchet up our ground game," Flathead Basin Commission executive director Caryn Miske said after news of the infestation broke Wednesday. "Otherwise, we might as well throw out a red carpet and welcome them in."
The water samples from Flathead Lake among many slated to be re-tested in the coming days as the state determines the extent of the mussels' spread, while planning a course of action moving forward.
Hester said the state is planning for a "worst-case scenario," and has already tapped the Flathead Basin Commission to provide several dogs specially trained in mussel detection. Additional mussel-sniffing canines are also being brought in from Alberta, along with regional experts on the invasive mussels.
As the dogs are deployed to search out adult mussels along portions of the Tiber Reservoir's 120-mile shoreline over the next week, state officials will determine whether to implement containment actions, including possible chemical treatments of the reservoir to eliminate the fledgling mussel population.
"It doesn't necessarily mean closing the water body, because the water temperature is 48 right now and the veligers can't survive in water that's colder than 50 degrees," Hester said. "That's the best-case scenario, that when they were introduced the cold hit and it wiped them out. But that would be extreme luck."
While Montana is no longer among the Western states that have avoided invasive mussel introductions — Idaho, Washington, Oregon, Wyoming and New Mexico — she added that many other states have provided valuable case studies in how to address a new detection.
She also expects this will push the issue of aquatic invasive species to the fore when the Montana Legislature reconvenes in January, and will likely result in increased funding and legislation to beef up the state's system for preventing their spread.
"This is going to kick into place a lot of concern and additional resources to do a better job with managing invasive species in the state," Hester said. But, she added, "It's becoming a losing battle."
Reporter Sam Wilson can be reached at 758-4407 or by email at swilson@dailyinterlake.com.