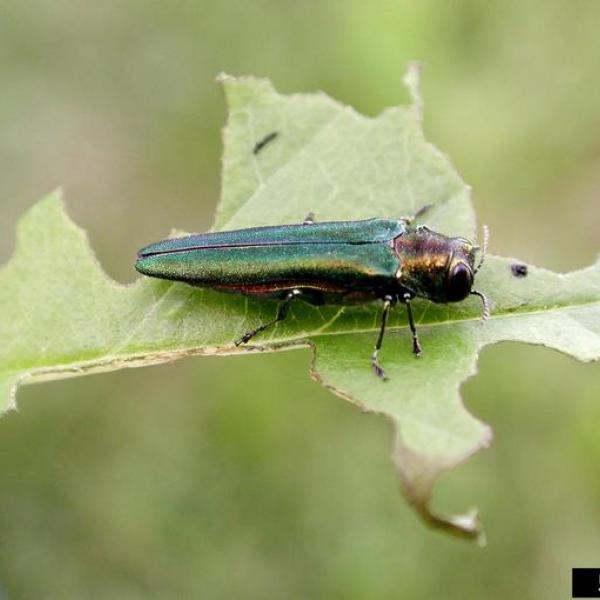 News Source
The invasive tree-killer that's alarming Vermont forestry officials could cost the town of Hartford alone hundreds of thousands of dollars, according to early projections by Tree Warden Brad Goedkoop.
Emerald ash borer, an iridescent green beetle that kills its host trees by girdling them beneath their bark, now has been documented in five Vermont towns in Orange, Washington and Caledonia counties, and could, over time, wipe out virtually every ash in New England, Goedkoop said during a presentation he gave to the Selectboard last week.
In Hartford, that includes 63 ornamental ash trees that have been planted on town property, such as a handful in Veterans Park on Railroad Row.
"These are trees we paid for and planted," Goedkoop said in a CATV video of the meeting.
He favors treating some municipal trees with an insecticide extracted from the neem tree, called Azadirachtin, at a cost of roughly $150 per treatment.
Treating about 30 ornamental tree once every two years would cost the town roughly $2,200 per year, which sounds like a lot until it's compared to the estimated $20,000 it would cost to remove that many trees.
"You can see that some of these preventive measures might make sense, from a financial perspective," he said.
Also at stake are about 2,000 ash growing naturally within town rights-of-way, and 260,000 ash on privately owned and controlled land.
Goedkoop drew on an ash tree survey he and members of the Hartford Tree Board conducted in 2013, as well as cost projections on various ways to deal with the crisis — options range from treating ash trees with preventive insecticides, removing them altogether, or replacing them with trees that aren't susceptible to the borer.
"We have between 5 and 7 percent ash," he said.
Only about 50 native tree species thrive in Vermont's cold climate, Goedkoop said, and so the loss of any one of those species is a big blow to the ecosystem.
Of the roughly 2,000 threatened ash in the right-of-way, Goedkoop said 883 are the responsibility of the town's Public Works Department, with the balance falling under the purview of the utility companies whose power lines they threaten.
For example, he said, there's a stretch of ash-heavy woods crowding Jericho Street and Newton Lane, near the Norwich town line.
If the invasive starts killing trees in Hartford, Goedkoop estimated that the town will have to remove 10 times as many dead trees as it currently does, just to keep pace.
One thing that makes the removal of trees in the right-of-way particularly costly, Goedkoop said, is that the town can't always realize the value of the downed ash.
"If that wood was used for firewood for home heating assistance, if it was used for lumber sales, or park benches or school shop programs, it would be vastly preferable. ... But while the town has the responsibility to mitigate that hazard, the town doesn't own the wood," he said. "The property owner owns the wood."
Selectboard member Dick Grassi said that, with the large majority of the trees in Hartford in private hands, it might be impossible to prevail against the beetle in the long term.
"We could spend the money and do it, but it still wouldn't solve anything because there are 260,000 trees that have the possibility they're not being treated," he said.
Selectboard member Alan Johnson said that, with a mitigation strategy that would spread out over decades, the costs of treatment could change, for the better.
"Twenty years is a long time for new methods to be developed of dealing with this," he said. "I can very well imagine that given the scope of the problem, and the impact nationally, we'll have a more cost effective and potentially permanent treatment that will be a solution."
In early May, the state joined a federal ash tree quarantine zone that includes Massachusetts and New York; later that month, emerald ash borer also was documented in Maine for the first time.
Goedkoop said the quarantines have not proven to be effective at discouraging people from transporting firewood infested with EAB, which has been found in 32 states since it was first discovered in Michigan in 2002.
"It my mind, it gets a little less meaningful when half of the country is quarantined and it doesn't make much difference," he said.
New Hampshire declined the federal quarantine in favor of a county-by-county quarantine that seeks to protect uninfested areas from in-state transit.
Many towns haven't yet formally considered a response to the EAB, and those that have are mulling different scenarios.
The Associated Press reported earlier this month that Goedkoop's tree warden counterpart in Berlin, Vt., advised town officials to clear out all of that community's ash before the borer shows up.
Montpelier, where the emerald ash borer was documented for the first time about a month ago, estimates that it has 1,100 ash along its streets and trail system, and another 2,800 or so on private property within city limits; a few years ago, it developed a response plan that included the slow replacement of poor-condition ash with non-ash species; the total cost to remove the trees was estimated at more than $800,000.
It also has been found in Orange; Barre; Plainfield, Vt.; and Groton.
In Hartford, the Tree Board and Goedkoop have designated Xaxakwetet Little Tree as the town's first responder to suspected cases of infestation; Little Tree has been trained to identify credible reports and send them on to state officials for laboratory verification.
Matt Hongoltz-Hetling can be reached at mhonghet@vnews.com or 603-727-3211.
Related Invasives