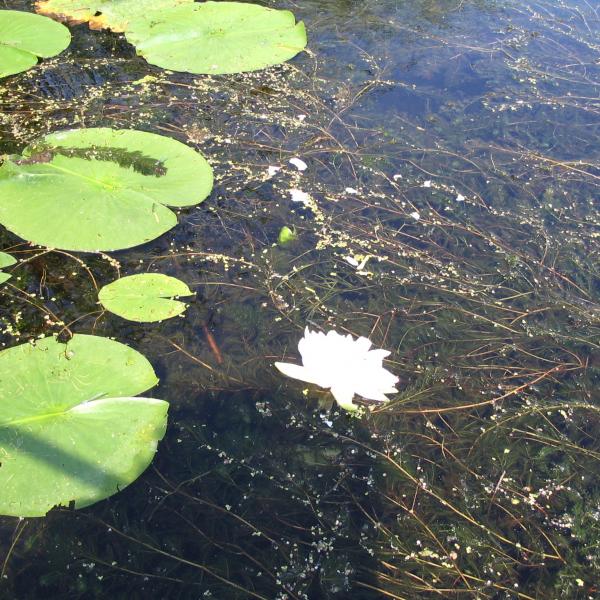 As part of my job managing aquatic invasive species for the Department of Environmental Conservation, earlier this summer I traveled to Vermont's Northeast Kingdom for a site visit to Shadow Lake in the town of Glover. Shadow Lake is a beautiful, 210-acre oligotrophic waterbody with a Vermont Department of Fish and Wildlife public boat launch, town swim beach, numerous seasonal and year-round homes, and an active lake association. This lake also supports many native aquatic plants and fish, loons, and, unfortunately, Eurasian watermilfoil.
Eurasian watermilfoil is not supposed to be in Shadow Lake or part of any Vermont aquatic ecosystem. Native to Europe, Asia and North Africa, it is believed this highly invasive aquatic plant was first introduced into the United States in 1942, possibly through the ornamental gardening or aquarium trade. Vermont's first population was found 20 years later in Lake Champlain's St. Albans Bay.
I made the two-hour trek bright and early from central Vermont, and was warmly welcomed by four Shadow Lake Association members. Since 2011, I have had the pleasure and privilege of working with these tremendously dedicated and generous individuals whose daily routines – summer, fall, winter, spring – now includes worrying about Eurasian watermilfoil and what this one plant species might do to change the lake they care so deeply about.
Eurasian watermilfoil is considered by many to be Vermont's aquatic invasive species "poster child." Prolific, not particularly picky about water temperature, sediment type or available nutrients, and highly effective at hitching a ride from one waterbody to another, this non-native invader, once introduced, is unlikely to be eradicated. It can grow and proliferate from roots, small or large stem pieces, and seeds. Dense Eurasian watermilfoil populations out-compete and eliminate beneficial native aquatic plants, reduce lake oxygen levels, increase lake water temperature, are of little value – food or habitat – to wildlife, and wreak havoc with recreational water enthusiasts. In a short time, this invasive aquatic plant can transform a Vermont waterbody into something unrecognizable, environmentally and recreationally.
Populations of Eurasian watermilfoil are known from 68 Vermont lakes and ponds – including, since 2011, Shadow Lake. Make note though: 79 percent of Vermont's lakes and ponds are free of this or another aquatic invasive species. Many individuals, lake and pond associations, municipalities and others dedicate countless hours in an effort to keep it this way.
Shortly after Eurasian watermilfoil was confirmed in Shadow Lake, the Association with support from the Town of Glover moved quickly to respond to this invasion: educating themselves and others, securing needed permits, acquiring needed funds, implementing needed control measures, and spreading the word far and wide to address this critical environmental issue. The Association also implements a public access greeter program and offers a staffed high pressure, hot water wash station free of charge to anyone wanting to prevent the spread of aquatic invasive species.  They also participate in the Vermont Invasive Patrollers, surveying the lake regularly for any new aquatic invasive species infestations.
On June 9, 2015, with the lake water temperature a brisk 60 degrees Fahrenheit, the Association's contracted scuba diver and I jumped into an area at the northern end of the lake known as "the cove." This is one of 20 sites where Eurasian watermilfoil was known, yet the only site known to have supported a substantial population. To control the cove Eurasian watermilfoil population, on November 1, 2011, scuba divers installed and weighted down specially designed mats on the lake bottom to compress and block sunlight from covered watermilfoil plants.  All mats were removed in 2014 after Eurasian watermilfoil was believed controlled underneath them.  Our task on June 9th was to get in the water, and search for and remove any Eurasian watermilfoil plants not controlled by the mats.
In addition to the cove, we checked a number of other previously known Eurasian watermilfoil sites. These occurrences were fortunately found soon after establishment, a result of Association-initiated, regular searches.  At these sites, scuba divers or snorkelers were able to remove both roots and stems of these plants by hand. With both relief and a sense of accomplishment, the June 9, 2015 survey crew was pleased to find no Eurasian watermilfoil plants at any of the sites checked.
Since that time, a few plants have been found, but were again promptly removed in full by hand.  Is the Shadow Lake Association's work to control Eurasian watermilfoil a success? Absolutely. The quick response; successful fundraising; regular weekly, underwater searches; broad educational efforts; and tireless planning, commitment and dedication – with likely a number of sleepless nights – appears to have paid off, four, long years later. Will Eurasian watermilfoil be eradicated from Shadow Lake? Time will tell.
For me, Eurasian watermilfoil control is analogous to a "needle in a haystack." Can one successfully search a lake's littoral zone – the zone where sunlight reaches the lake bottom and aquatic plants grow – to find and remove Eurasian watermilfoil plants before they expand from one to many? Can needed, effective management efforts be sustained well into the future? And how did Eurasian watermilfoil get introduced into Shadow Lake in the first place? Might it be reintroduced by the same or other pathways?
Based on what I've witnessed to date, the Shadow Lake Association may indeed be able to soon claim Eurasian watermilfoil controlled in Shadow Lake. If anyone can take on Eurasian watermilfoil and win, I'm betting these folks can.
By Ann Bove, Aquatic Invasive Species Management Program Leader, VT Department of Environmental Conservation