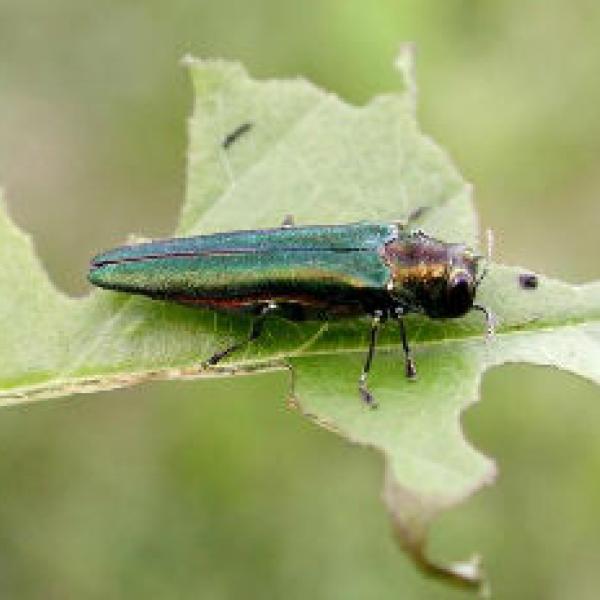 New Emerald Ash Borer (EAB) Detections 
New detections of EAB in Vermont have expanded the existing Infested Area within Orleans county. The towns of Irasburg, Jay, and Troy were added to the Infested Area.  
To help illustrate where there are actual EAB infestations, view the map and list of municipalities with EAB infestations. These depict the municipalities where EAB has been detected as well as the year of detection. The map highlights that there is still a lot of EAB spread to slow.  While the Infested Area Map shows that high-risk areas for EAB (a 10-mile radius around a detection) include many municipalities, visibly infested trees are still rare in Vermont.
We Are Entering the EAB Flight Season 
The EAB flight season starts on June 1st and goes through September 30th. During this time of year, EAB will be emerging from infested ash trees, logs, and firewood and seeking new host trees and mates. Moving ash materials during the flight season could spread EAB to currently uninfested areas. Therefore, there are more stringent recommendations for moving visibly infested ash materials in Vermont's Slow the Spread Recommendations to protect these areas, including delaying harvesting and not moving untreated ash until after flight season (October 1st). Slowing the spread of EAB will allow us more time to prepare and respond, but we will all need to work together. 
Ash Trees Removed in State Parks 
The Department of Forests, Parks, and Recreation (FPR) evaluates state land to identify dying and at-risk ash that could present a hazard to life and property. Across the state, there are thousands of ash trees in state parks and forests that could strike buildings, people, campsites, and high-use trails once killed by EAB. To avoid closing parks and other high-use areas on state lands, FPR is proactively removing certain ash trees before and soon after they are infested with EAB. As our parks reopen, visitors may notice changes at Grand Isle State Park, Emerald Lake State Park, Lake St. Catherine State Park, and Coolidge State Park as FPR works to address these hazards.  
Report It! 
If you think you have found EAB or an infested ash tree, report it! Having more information about where EAB is around the state will help all of us in managing the pest. 
Slow the Spread Recommendations for Moving Ash Materials 
Based on the extent of Vermont's current EAB Infested Area – covering nearly 2/3 of the state - the recommendations for moving ash material were updated last year to allow for greater movement of low-risk ash material in Vermont while providing greater protection of uninfested trees and forests. You can help by following the updated Slow the Spread Recommendations for moving all ash material in Vermont: there is still a lot of EAB spread to slow.  
Managing Ash 
Questions about managing ash in your woodlot, around your home, or in your community?  Check out the resources available at VTinvasives.org.