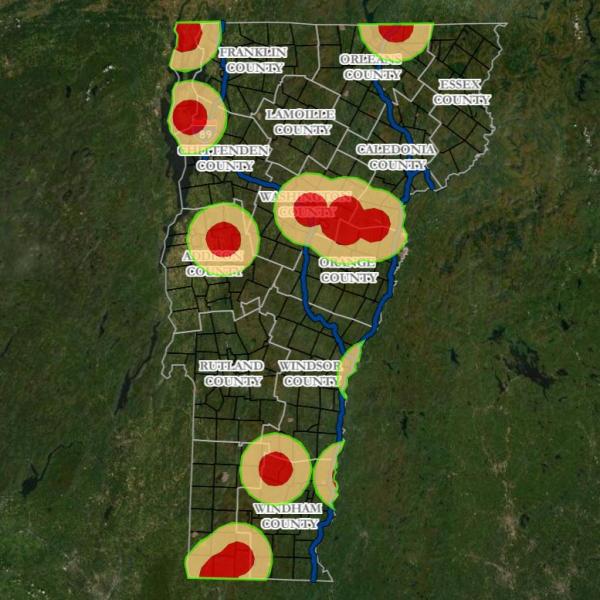 A new detection of the emerald ash borer (EAB) in Readsboro, VT has expanded the current infested area in Southwest Vermont. 
The mapped area in Vermont to which "Slow-the-Spread" recommendations apply now includes new areas in Bennington and Windham counties. 
Towns within the expanded infested area includes:
All of the town of Searsburg and Woodford

Most of the towns of Whitingham and Wilmington

Portions of Glastenbury, Somerset, and Dover
The new detection was discovered during the peeling of trap trees. A "trap tree" is an EAB detection technique that is prepared by girdling (the bark peeled off all the way around the tree) an ash tree, which slowly kills it. The declining ash tree will release compounds that attract adult EAB in the area during the growing season. They will lay their eggs in this tree, and the larvae will start to tunnel beneath the bark. The following spring, sections of the bark of the girdled trees are removed to search for signs of EAB, indicating the beetle is present in the area. Visit VTinvasives.org under 'Forest Landowners and Managers' to learn more about trap trees.
The EAB flight season is imminent (beginning June 1st) and EAB are actively emerging from infested ash trees and materials, seeking new host trees and mates. The Recommendations to Slow the Spread of Emerald Ash Borer identify that moving ash from the infested area during the flight season is less than optimal and there are more stringent recommendations for moving ash materials including delaying harvesting, not moving untreated ash until after the flight season – October 1st -- and for receiving processors to treat it within one business day.
There's a lot of spread to slow: While the infested area map shows that high-risk areas for EAB include many towns, visibly infested trees are still rare in Vermont. You can help by following the "Slow-the-Spread" recommendations.
Questions about managing ash in your woodlot or around your home?  Check out the resources available at VTinvasives.org.
View a larger map or download a PDF map of the infested area.
Related Invasives