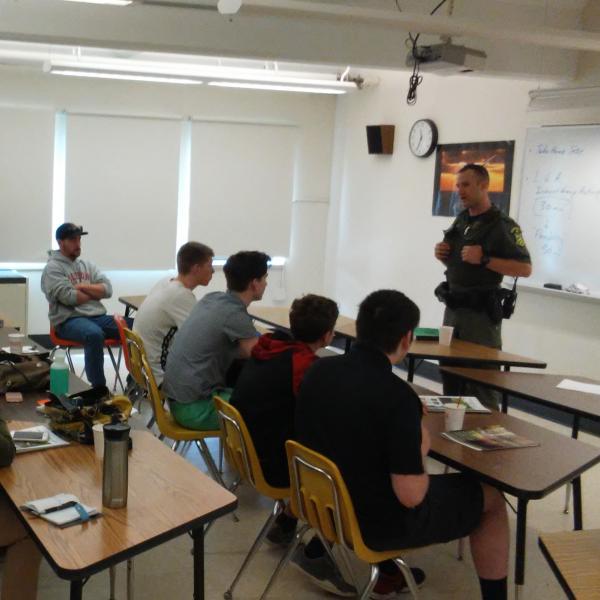 As summer unofficially begins this weekend, boaters and anglers will begin to flock to Vermont lakes and rivers in search of fish, freedom, and fun. There are few better ways to spend a hot New England summer day than paddling through cattails in search of the elusive great blue heron or stalking the shallows at dawn for cruising largemouth bass. This year alone, hundreds of thousands of people will find enjoyment in one way or another from the Vermont's awesome aquatic resources. And, although the threat of aquatic invasive species transport is greatest during the busy summer months, the Vermont Agency of Natural Resources (VTANR) will be employing a multi-faceted approach to minimize those threats.
With the passage of Act 67 in June of 2017, VTANR is well equipped to slow the spread of invasive species. The transport of more invasive species is now prohibited, watercraft are required to be drained and inspected for invasive species prior to launching into or leaving a waterbody, and law enforcement officials are now authorized to issue citations for violations of aquatic invasive species-related laws. More than ever before, Agency staff and other entities are partnering to keep invasive species at bay.
The Vermont Department of Environmental Conservation (VTDEC) will be overseeing the Public Access Greeter Program for the seventeenth straight season, and will be expanding to three new waterbodies (Peacham Pond, Curtis Pond, and Lake Elmore) in 2018. Due to the new regulations, these programs will take on an even larger role in protecting Vermont's lakes and ponds. Those boaters that encounter a watercraft inspection station are now required to go through the quick inspection process to ensure that invasive species are not unknowingly transported between waterbodies. At some inspection locations, watercraft decontamination equipment will be available as an extra tool to further reduce potential risks.
The State has also developed additional educational and outreach materials to disseminate information regarding invasive species, as well as other concerns related to the protection of State waters. New signage is being installed at all public access areas to alert water users of new legislation and what can be done to curb the spread of invasive pests. A guide for boaters has also been recently developed and will provide watercraft users with basic information on boating and fishing laws and aquatic invasive species. Since many lakeshore properties are rented to others over the course of the summer, the State has put together a brochure targeting renters. This document has information on the importance of shoreline vegetation, the dangers of disturbing wildlife, and invasive species.
State Fish and Wildlife Wardens will also be contributing to education and enforcement of aquatic invasive species laws. With Act 67 now in its second year, law enforcement officials will continue to educate the boating public on the new regulations as well as other pertinent laws. Depending on the situation, wardens also have the authority to cite those in violation of aquatic invasive species transport laws with fines of up to $1,000.
There are several other groups that will be assisting with invasive species spread prevention and education efforts as well. The Department of Forests, Parks, and Recreation will be providing materials to State Park Interpreters on aquatic invasive species identification and spread prevention. The Department will also be organizing volunteer events for those that wish to get involved with water chestnut control efforts in the Lake Champlain basin. Other volunteers will be scouring Vermont's waterways as part of the Vermont Invasive Patroller Program. And last but certainly not least, over 50 municipalities statewide will be implementing their own aquatic invasive species spread prevention, outreach, or control programs.
Most Vermont waterbodies are free of invasive pests, but there are several waterbodies that do have confirmed populations of invasive species, although some of these populations have been managed to the extent that impacts to recreation and the environment are limited. With the assistance of its multitude of partners, VTANR hopes to prevent new introductions of invasive species and to effectively manage existing populations to ensure that all – people and wildlife alike – can continue to enjoy the waters of the Green Mountain State.
Happy swimming, paddling, fishing, and boating to all!