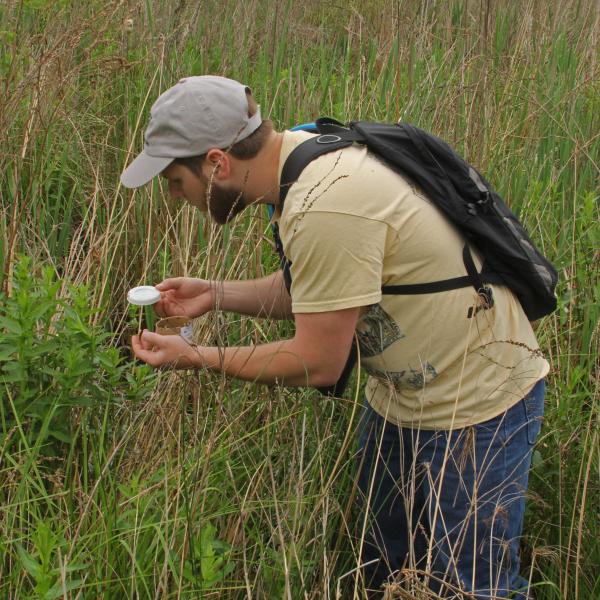 News Source
By Mark Nale
Pennsylvania Outdoor News
State College, Pa. – A small group from Wildlife For Everyone gathered to see over 600 alien Galerucella calmariensis beetles released late last month at the Julian Wetlands in a man-made marsh adjacent to Miles Hollow Road, north of Port Matilda.
This alien beetle is "friendly" and has proven quite useful.
The Julian Wetlands was donated to the State College based Wildlife for Everyone Foundation by the WHM Group in 2010. This mitigation wetlands property is an important stopover for migrating waterfowl and the home to many species – including wood ducks, bluebirds, yellow warblers and Virginia rails.
During the past few years, purple loosestrife, a pretty but invasive wildflower, has shown up at the wetlands. Purple loosestrife was introduced to North America in the early 1800s, and is now found across most of the United States (except the arid southwest) and much of Canada.
Although it has beauty, loosestrife is an unwanted non-native species. Each plant can produce thousands of seeds a year and the dense masses of stems make the wetland unattractive to waterfowl. It grows from 3 to 10 feet high and is adaptable to many types of wet soils.
"Purple loosestrife is an invasive species that can entirely choke out the native plant community in a wetland and destroy the functions and benefits of that ecosystem," said Colleen DeLong, habitat steward biologist for ClearWater Conservancy.
"Our Wildlife For Everyone wetlands property has some wonderful biodiversity and we want to continue enhancing the habitat for wildlife," president Jerry Regan said. 
"If left unchecked, the non-native loosestrife would destroy the wetland. We elected to step out of the box and use a biological control to help us solve the problem, rather than chemicals."
Galerucella calmariensis, better known as the loosestrife leaf beetle, is one of two species of beetles used to control the invasive loosestrife. According to WHM wetlands scientist Peter Backhaus, who supervised the May 23beetle release, both beetles were studied extensively and found to be safe. 
They provide a better alternative than chemicals or manual extraction.
"The loosestrife leaf beetle, a native of Eurasia, has been released in at least 27 states and in Canada with no adverse affects," Backhaus said. However, the beetles are expensive. According to Backhaus, 630 of them were shipped overnight from Montana and released at Julian Wetlands, costing about $1.25 each.
"A few years ago, you could buy the beetles fairly cheaply, but there are fewer growers now and they are quite expensive," Backhaus said.
The beetles – approximately 105 per container – were released at three pre-selected locations in the wetland. Almost immediately, they started eating loosestrife and mating.
"They will reproduce several times this summer, and there should be thousands eating the loosestrife by the end of summer," Backhaus remarked. 
The beetles have been previously released for loosestrife control at other locations across the state and there have been no problems. In Centre County, the loosestrife-eating beetles have been used at three places – Millbrook Marsh, Muddy Paws Marsh and now at the Julian Wetland.
          According to Penn State University wetlands ecologist Robert Brooks, two species of loosestrife-eating beetles (the leaf beetle and the golden loosestrife beetle) were released at Millbrook Marsh about 15 years ago. This was after other methods of control proved to be ineffective.
"We had tried mechanical removal, pulling up or breaking off the plants the year before, and that just stimulated purple loosestrife growth," Brooks said. 
"Since introducing the beetles, the loosestrife density was decreased, with just a few plants remaining. With the help of the beetles, we were able to knock back the loosestrife right away, and now, over 15 years later, purple loosestrife is still only a small part of the plant community instead of taking over the wetland habitats."
The same two beetle species were released at Muddy Paws Marsh near Spring Mills in 2007 – about 6,000 beetles. At that time, the wetland was choked with loosestrife, and in the summer, it was a sea of pinkish-purple blossoms.      
"We had a lot of loosestrife," noted Mary Kay Williams, co-owner of Muddy Paws Marsh. "Our beetle release was a partnership funded through a Growing Greener grant obtained by the Penns Valley Conservation Association, and the beetles were purchased and released by the U.S. Fish and Wildlife Service."  
 Williams recalls that they noticed the first significant damage to the loosestrife in 2008, and by 2010, the beetles were really controlling the invasive loosestrife. 
"By 2012, I thought that we were done with loosestrife forever, but late last summer, it reared its ugly head again and came back with a vengeance."    
Williams thinks that the loosestrife beetles from Muddy Paws might have moved to another nearby wetland that had more loosestrife. If so, Muddy Paws will likely need a new introduction of these insects.
Back at Julian Wetlands, the project is off to a good start. Backhaus has visited the sites twice since the beetles were released, and he is documenting what he and Wildlife For Everyone hopes is the progress of the loosestrife control.
His most recent inspection was June 7. While he did not see any beetles, holes in the plant's leaves were quite extensive around the release sites and some browning leaves could be seen.
Regan is pleased with the effort. "So it seems that our experiment is working and those little beetles are doing their job, eating away."