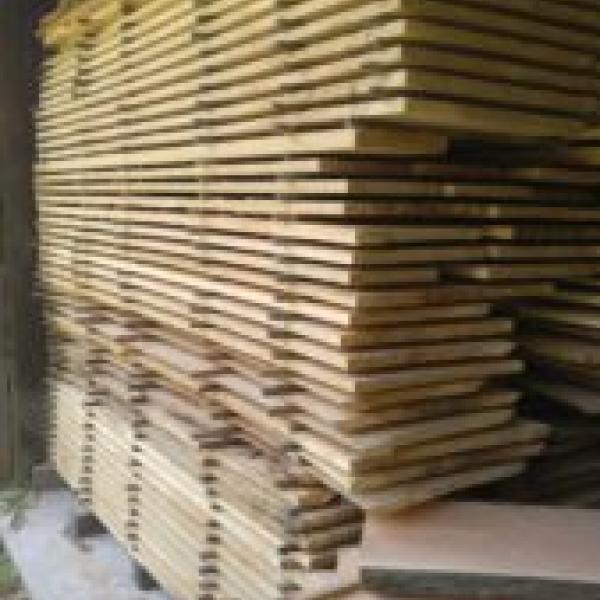 News Source
South Sioux City, NE (March 10, 2017) – A new project in South Sioux City is a model alternative to burning or landfill disposal of the ash trees the City will likely lose when the ash borer invades their communities. The stack of boards will become a cabin at South Sioux City's Community Orchard.
"This project, when completed, will be a landmark for urban wood use statewide," said Adam Smith, Nebraska Forest Service forest products program leader. "It's something of a showcase for innovation."
City workers in February cut down a dozen storm-damaged ash trees from city parks and some smaller ash trees from a former tree farm. South Sioux City parks director Gene Maffit said he hoped the 35 trees cut down for the project would provide enough lumber for the 325-square-foot cabin, designed by University of Nebraska students, to be built this summer at the Community Orchard.
The cabin will house tools and be used for other purposes. It will also show that the thousands of ash trees that face removal in South Sioux City don't just have to wind up on the woodpile.
"We wanted to show people you can do more with this ash wood than just cut it up for firewood," Maffit said.
The removal of the trees was the first step in a city plan to cut down some 3,000 ash trees as the emerald ash borer nears South Sioux City. The beetle was first found in Nebraska in an Omaha park last spring. It's since been found in a second county between Omaha and Lincoln. It's also been found in 41 Iowa counties, Harrison County being the closest to the Sioux City area.
Parks officials in states in which the beetle has been found all have faced the decision on how to prepare for the inevitable infestation of their ash trees. Maffit said South Sioux City hasn't planted ash trees for several years and about eight years ago began planting other species of trees in order to diversify the city's tree population and give the young trees time to grow before the ash trees are removed.
Maffit estimated about 25 percent, or about 3,000, of the trees on city property are ash trees. Most if not all of them will be removed in coming years, he said, rather than use costly chemical treatments to try to save them. Under a plan approved by the city council last year, $20,000 is budgeted for the 2017 fiscal year for ash tree removal.
Related Invasives