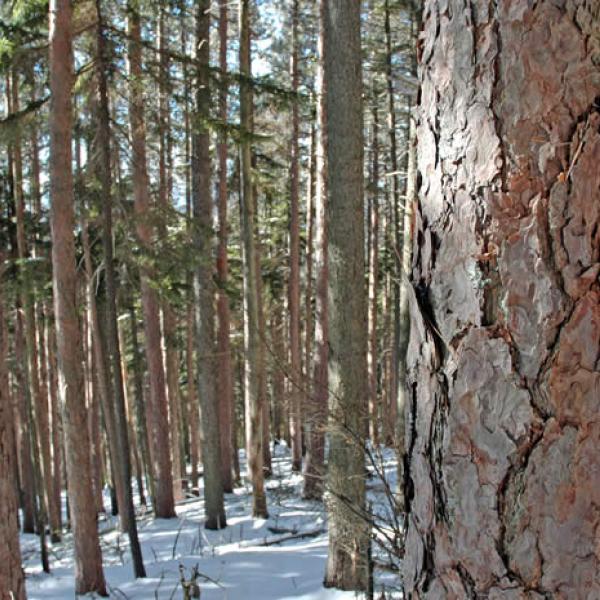 News Source
Woodstock — Consider it an ecological murder mystery.
The Twin States' red pines are dying, and for the last few years, University of New Hampshire researcher Mike Simmons has been on the case, trekking into the woods to perform autopsies on wooden corpses and taking tissue samples back to the lab for forensic analysis.
When Simmons is out in the field, sometimes he sees stands of majestic, hundred-foot-tall red pines that are barely affected — perhaps a bit of discoloration at the lofty crown, or a few needles dropping off.
Other times it's a sap bath, with dismembered limbs strewn across the forest floor, and 80 percent of a community of pines dead, skeletons firmly rooted in place and awaiting decay.
"Red pines are an interesting species," said Simmons. Some of the stands he sees are the remnants of tree plantations first sown by loggers and landscapers, mostly between 1920 and 1960.
For example, consider the thousands of red pines growing alongside Interstate 91 between Ascutney and Hartland, likely planted by the Vermont Highway Department to stabilize the soil of the banks around the time the interstat e was built in the late 1950s and early 1960s. A large stand around mile marker 54 shows off the species' impressive qualities: tall straight trunks — often used for utility poles — with hardly any branches down low, but a tightly packed crown that blocks out the light from the understory, so that the ground is covered in a soft, shaded blanket of needles interrupted only by the occasional fern.
Other red pines are naturally occurring, jostling for space with maples, beeches and white pines in the woods. Often, they'll win out on rocky ridges where other tree species can't get a toehold, adding a touch of character to an otherwise lonely mountaintop.
Red pines are a very small percentage of the total forest: A 2013 survey by the U.S. Forest Service that measured the total cubic feet of individual species found that red pines comprised 12 million cubic feet of wood, as compared to 550 million for their cousin the white pine, and to 6.8 billion cubic feet for the forest as a whole.
But Barbara Schultz, Vermont's forest health program manager, said that, while red pines don't make up a large percentage of the state's total tree cover, there are plenty of distinct red pine plantations in the Upper Valley.
"In the town of Tunbridge there were 77 acres of red pine in 48 different plantings established between 1919 and 1974," she said. "In Strafford there were about 67 acres in 32 different plantings."
There are also some historic stands of red pine in the Marsh-Billings-Rockefeller National Historical Park in Woodstock, where they contribute to a forest that is famous among arborophiles for being among the longest continually managed tracts in the country.
But, over the last several years, neither pine plantations nor naturally occurring stands have been safe.
"People have been concerned about red pine mortality for several years," said Simmons.
Trees in Trouble
Vermont's forest is so large that it can be difficult to measure its health as a whole. The state estimate of the total number of live trees in Vermont decreased by 62 million between 2012 and 2016, but that seems like less of a big deal when one realizes the total population is still a very robust 3.4 billion organisms spread over 4.5 million acres of land.
Still, forestry experts try to home in on trends, both for the forest as a whole and for individual species.
Hartford Conservation Commission Chairman Jon Bouton, who retired recently as Windsor County forester, said he keeps up on the latest tree gossip, and the plight of the red pine was a big topic of a recent conversation with Orange County Forester David Paganelli.
"He said every red pine plantation in Orange County looks terrible," said Bouton.
The signs of a poor health are evident for years before the average red pine dies. The first signs of trouble appear on individual branches near the lower part of the crown, after which it spreads, the needles slowly changing color: from a healthy green to a sickly yellow to a desiccated red that consumes the entire crown.
And tree lovers everywhere are worried about the particular red pines that they know and care about.
Bouton said he's heard of troubled red pine on a piece of land in Washington, Vt., owned by the Vermont Institute of Natural Science. Hartford Tree Warden Brad Goedkoop is worried about a beautiful stand of red pine he's partial to on the Appalachian Trail in West Hartford, near Pomfret. And tree enthusiast Michael Quinn, of Windsor, was thinking of a large stand of red pines on the grounds of the state prison in Windsor.
In all, Vermont state officials conducting aerial surveys have identified 743 acres of dead or dying red pines scattered in eight counties.
Simmons said that, after years of study, he's not prepared to pin the tree deaths on any one killer. But he's looking at a few of the usual suspects.
First up, in a turn that seems more relevant in light of President Donald Trump's withdrawal from the Paris climate agreement earlier this month, is climate change. The fact is, said Simmons, while there's near consensus in the scientific community that the planet is heating up, it's much harder to pin down the exact impact on any particular species.
"There could be climate factors that can contribute to tree stress," Simmons said. "We've had periods of drought over the last several years."
Another possibility is disease.
"There may be some needle pathogens causing mortality or tree decline as well," he said. "At this point, we don't have conclusive evidence if there's a uniform factor across all these stands."
The Prime Suspect
Though he won't clear these suspected tree killers, or rule out the possibility that they may be working in concert to undermine the health of red pine populations, Simmons is really focused on a prime suspect: red pine scale, a tiny, near-microscopic insect that crawls beneath the tiniest of bark flakes, injects its mouth into the tree's phloem, and begins to feed, sucking sugars and other metabolic products as the tree tries to circulate them from the sun-catching needles to the rest of the tree's body.
Red pine scale isn't a new insect — massive numbers have been multiplying in southern New England since 1939, when experts think it was introduced to the country on exotic pines planted at the New York World's Fair. But the pest is new to Vermont and New Hampshire, which is bad news for local red pine populations, in part because there's no known way to cure a tree of infestation.
"I do have a concern," said Schultz, the manager of Vermont's forest health program. "This is new to us and people haven't had an opportunity to plan for it. People who have red pine now, if they planted for timber production, they're really going to see some losses."
The invasive insect was first confirmed in Vermont in 2015, when researchers found light populations in two locations in Rutland and Orange counties. Now, tree experts are becoming increasingly familiar with the signs of a heavy infestation, which is marked by masses of cottony white filaments on branches.
No one knows for sure what's allowed the bug to spread into local forests, with climate change and human migration both possible causes.
Since it's arrived in the Northeast, it's been wreaking havoc, most visibly in those communities that have been defined, in part, by red pine-based landscaping. Two years ago, Northampton, Mass., announced that it would remove 11,000 scale-infested 90-year-old red pines from its city streets. A similar situation is playing out in Rutland, where tree officials are in the early stages of a plan to remove 100,000 red pines from 150 acres of land spread out over 17 different parcels.
Kyle Jones, an ecologist with the National Park Service, said he's worried that the same thing might happen to the woods he manages at the Marsh-Billings-Rockefeller National Historical Park, which includes red pine tree plantations planted in 1917 and 1952.
Sometimes, landowners and tree stewards can only watch helplessly as a tide of invasive pests washes through a forest. It's happened before. A hundred years ago, the once-ubiquitous American chestnut tree was all but wiped out by chestnut blight that killed an estimated 4 billion trees. And beech bark disease, the common name for a two-blow knockout delivered by an insect and fungus working in tandem, has reduced the park's beeches from stately magnificence to sickly groupings of juvenile sprouts that die before they mature.
Jones worries that the scenario might play out again with red pine, removing another thread from the tapestry of the local ecosystem.
"It looks like it has the potential to wipe out a whole species from the park," he said. "You know, a year ago, we talked about the big three invasives: emerald ash borer, hemlock woolly adelgid, and Asian long-horned beetle. Now, all of a sudden, we have the big four."
And Fred Dieffenbach, environmental monitoring coordinator for the Woodstock-based Northeast Temperate Network, said red pine plantations are at an even higher risk than their native-born counterparts.
"It's not unlike a large cornfield, for example," he said. "When you have something that's all one species, or a monoculture, it does tend to be more vulnerable to a disease."
Though there is no cure for red pine scale, officials can hope to slow or contain it by removing infested trees, and encouraging the public not to transport wood that may contain the pest.
Jim Esden, a forester with the Vermont Department of Forests, Parks and Recreation, said those who suspect a red pine tree in their area is dying should call him at 802-777-1591.
"I would probably do a little fact finding and triage and then refer them to the experts," he said.
Article credit: Matt Hongoltz-Hetling - Valley News Staff Writer
Matt Hongoltz-Hetling can be reached at mhonghet@vnews.com or 603-727-3211.
Related Invasives